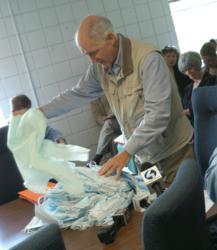 Our petition is showing the Board of Health that Allegheny County residents want this updated and strengthened standard for toxic air pollution
Allegheny County, Pennsylvania (PRWEB) May 08, 2012
Clean Water Action has organized a landmark petition to urge Allegheny County's Board of Health to pass a new set of Air Toxic Guidelines that would protect the health and environment of Allegheny County. The petition demands that the Board update the list of chemicals that are covered in the guidelines and use the most recent science on the dangers of those chemicals; make sure existing sources of nearby toxic pollution are taken into account when permits are issued for new facilities; and incorporate a policy that will reduce the overall level of toxic pollution in the county over time.
The new guidelines will also secure better protections for residents of "hot-spot" areas like Clairton and the Neville Island, where people have suffered the most from toxic air pollution.
The petition came to the front of attention at the bi-monthly Board meeting at the Clack Health Center on Wednesday, May 2nd when Ted Popovich presented 850 surgical masks, each representing the name of a petition signer. The petition is gaining momentum after a two-year battle to update the county's Toxic Air Guidelines and continues to grow. Clean Water Action has more than doubled its original goal of 500 signors in the four weeks since the petition launched.
"Our petition is showing the Board of Health that Allegheny County residents want this updated and strengthened standard for toxic air pollution," said Tom Hoffman, Western Pennsylvania Director of Clean Water Action. "When a new source of pollution is being considered, a new factory for example, it's meaningless to consider that factory's impact in isolation. We need to consider the cumulative impact of that new factory together with all other already existing sources of pollution."
The current Air Toxic Guidelines have been in place since 1988 and do not take into account the great progress in understanding the dangers of pollution and the great strides in technology to reduce emissions that have developed over the last two decades. The Board was hoping to consider updated standards at its meeting last week, but the committee working to revise the air toxic guidelines was not able to reach a consensus in time for the meeting. The next goal is to introduce the new guidelines at the next meeting on July 11th.
Read the petition and learn more about Clean Water Action at http://www.cleanwateraction.org
###
News coverage video of petition being delivered on surgical masks:
http://www.wtae.com/news/local/allegheny/Protesters-bring-signed-surgical-masks-to-health-board-meeting/-/10927008/12531526/-/14whuj2z/-/index.html
Clean Water Action is a one million member organization of diverse people and groups joined together to protect our environment, health, economic well-being and community quality of life. Clean Water Action organizes strong grassroots groups and coalitions and campaigns to elect environmental candidates and solve environmental and community problems.