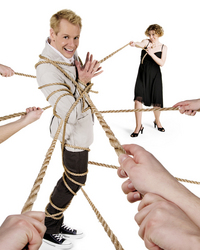 Americans need a good laugh right now. It is like therapy - but cheaper
Detroit, MI (PRWEB) March 15, 2010
"Americans need a good laugh right now. It is like therapy - but cheaper," says 33-year old comedy entertainer, Chris Linn. "I want to spread as much laughter to as many people across the United States as I can". The charismatic funnyman got one step closer to that goal this week when he received the award for "Entertainer of the Year" at the 13th Annual Spotlight Awards held in Las Vegas.
The Spotlight Awards, first presented in 1997 by Event Solutions Magazine, are the "Oscars" of the special event industry. The awards recognize the best individuals, companies and achievements in event production from around the world. Finalists in 20 categories are chosen by a panel of judges, and the winners are determined by public voting on Event Solutions Magazine's website. This year, over 82,000 worldwide votes were cast.
Linn, who performs at "America's Magical Funnyman", joined winners from Canada, South Africa, China, and the United Kingdom at the gala awards ceremony at Las Vegas' new Mandarin Oriental hotel.
Although this Michigan-based comedian may not yet be a household name, he maintains a performing schedule of 300+ shows a year. He has brought his stage show, which is a mixture of many elements of entertainment including off-beat illusions, funny videos, huge props, and improvisation with the audience, to all 50 states and 13 different countries.
Linn attributes his popularity with audiences and win at the Spotlight Awards with his ability to keep his comedy clean and performances fresh and modern. "I always strive to be a clean comedian because I want my show to be something people can share with their family and coworkers. If you use profanity or off-color humor, you begin to alienate people in your audience."
The Spotlight Awards are not the first time this entertainer has received international recognition for his talents. At age 16, he was awarded the top prize for Stage Magic at Tannen's Magic Academy in New York. In 2006, he was voted audience favorite at the Hong Kong Comedy Festival. He has also officially broken two Guinness World Records using his skills at sleight of hand.
Additional information about Chris Linn and booking a performance can be found at his official website – http://www.chrislinn.com
Additional Resources:
Facebook: facebook.com/thechrislinnshow
# # #