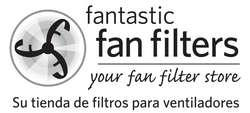 Santa Clara, CA (Vocus) May 21, 2010
Fantastic Fan Filters LLC, a Northern California based company, announces a full product line is now available. Fantastic Fan Filters LLC, which provides filters for home fans, has filters for the 8, 12, 16 & 18 inch Round Fans along with the 20 inch Box Fan. These filters provide an economical indoor air quality option. These Filters provide an innovative yet inexpensive method for home air purification.
This Merv 7 rated (from the HVAC industry) material has built in asthma trigger relief and aids to keep airborne pollutants at a very low level, and ultimately reducing the possibility of an Asthma attack. In addition this filter works to help lower, allergens, dust and other invisible indoor air pollutants.
Fantastic Fan Filters LLC filter wants to provide every household nationwide with this innovative method of indoor air purification. The product works by pulling air through the filter and pushes it into the house. It acts as an air cleaning device. This filter also helps to keep the fan blades cleaner resulting in less annual maintenance.
When asked about the product confidence, owner Dan Fantastic, stated, "By lowering Asthma triggers I greatly reduced the chances of having an Asthma attack. Coincidently, the filter also lowered the amount of dust I was cleaning weekly. I immediately noticed a difference. About half of the dust I was picking up was ending up in the filter. The filter is filthy after 3-5 weeks and needs replaced. I knew then this was going to be a great product for the entire population in any country!"
The Fantastic Fan Filters website offers great advice for lowering asthma triggers, allergens & dust in any home. To learn more about our products please visit us at http://www.fantasticfanfilters.com.
# # #