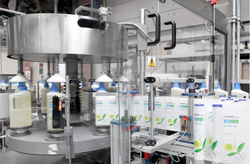 Not all cleaners are created equal; Ecover cleaning products are created better
Tujunga, CA (PRWEB) September 14, 2009
Long Beach, CA (PRWEB) September 14, 2009 -- Ecover today issued a challenge to the media to put to the test the performance of their ecological cleaning products against national leading brands. Upon request Ecover will send members of broadcast, print and online media three different products of their own: Ecover Grapefruit-& Green Tea-scented Dishwashing Liquid, Ecover Dishwashing Tablets and Ecover Toilet Cleaner; along with three competing national brands in each category to prove that efficacy and ecology are not mutually exclusive. To take the challenge, email [email protected]
"Not all cleaners are created equal; Ecover cleaning products are created better," said Kipling Wagner for Ecover's US marketing division. "There's a misconception that ecological cleaners aren't effective cleaners and we want to help dispel that myth by providing esteemed members of the media not just our products to test, but our competitors. We're confident that our products will outperform other national brands while having minimum impact on the environment."
But don't take Ecover's word for it, other experts and sources agree.
Consumer Reports has consistently ranked Ecover's efficiency high among that of national leading brands, even outperforming those such as Dawn, Cascade and Palmolive. And in many cases, the cost per unit was also lower, demonstrating an added value to consumers looking to conserve more than the environment, but money as well.
Product testers at major consumer news outlets like Parenting, Real Simple and Health concur. Ecover makes effective ecological detergents and liquids every bit as good as the leading non-ecological ones. And why shouldn't they?
Ecover pioneered the field of ecological cleaning in 1980 and has grown to become the largest producer of ecological products in the world. In 1992, Ecover established the world's first ecological factory, and in May 2007 opened the doors to a second. For nearly 30 years Ecover has met the steadily increasing demand for effective ecological products in 26 different countries, without the use of foam boosters, optical brighteners or phosphates.
In a TIME magazine article published last year in which Mick Bremans, Managing Director of Ecover, was named a "Hero of the Environment," Bremans insisted that the company was a business first, and ecological second, commenting, "Our products have to perform. If a business wants to survive, it obviously has to make profits."
But skeptics remain, and so Ecover today is issuing a challenge to journalists - asking them to take their products to the mat (er, the laundromat, kitchen sink or bathroom) against other leading conventional brands. To take the challenge, email ecoverchallenge (at) k2prgroup (dot) com.
ABOUT ECOVER
For almost 30 years, Ecover has been devoted to developing and producing effective and ecological washing and cleaning products made from plant and mineral based ingredients. Ecover's aim is to provide effective sustainable alternatives for washing and cleaning that can be used daily by people all around the world.
Ecover's ecological principles extend far beyond the products they create. Ecover's vision of sustainability takes ecological, economic and social aspects into account from the origins of the raw materials, to the complete biodegradation of the final products. Strict criteria are employed along the way as guidelines for all business operations. The products themselves are manufactured in Ecover's unique, world-famous ecological factory.
Ecover is a company that operates with sustainability at its very core. Ecover is constantly innovating and pushing boundaries to create new and more effective products that have minimum negative impact on the environment.
###