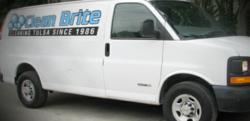 The Clean Brite staff has always been courteous, kind, and efficient in not only taking care of our cleaning needs but in treating our employees and vendors with the utmost respect. We can highly recommend 'Clean Brite Tulsa'
Tulsa, OK (PRWEB) March 30, 2012
When it come to 'green cleaning' Tulsa Based Clean Brite Tulsa is a company that loves the environment and loves it's employees. "We 'went green' before it was popular," says Mr. Green. "Now everyone is talking about the environment and going green."
"We saw this trend coming in the early 90's and began offering our clients, customers and employees green, organic and natural cleaning alternatives. It was a smart choice not just for those with allergies, employees and students but also for our medical clients who were taking care of hundreds of patients per week in a hospital environment."
Clean Brite is a green cleaning company with an entire line of green clean products. Tom Green, COO at Clean Brite says, "More and more companies not only want green cleaning but also indoor air quality to be a priority. At Clean Brite we only use triple filtration Windsor vacuums that remove 99.9% of the microns-freeing the air of dust mites, particulates and disease causing bacteria and viruses that make employees sick and keep them from work. You could say that our cleaning system reduces employee sick time and makes for a cleaner, safer, more healthy work environment."
Companies, business owners and facility managers can visit CleanBriteTulsa.com to request a quote for janitorial services and be sure and ask a free Indoor Air Quality Report to find out if you work in a 'sick' building.
Readers can follow Clean Brite Tulsa on Twitter,Facebook and YouTube to see them in the news and to find out what other customers are saying about Clean Brite Tulsa.
Clean Brite Tulsa provides quality janitorial and commercial cleaning services in Tulsa, Broken Arrow, Bixby, Owasso, Oklahoma City, Joplin, Claremore, Ft. Smith Ar & Dallas, Tx. Services include: Carpet cleaning, tile floor buffing, stripping, waxing and propane buffing of VCT.