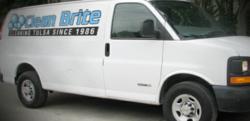 We are matching our subcontractors and employees with cleaning contracts that are virtually in their neighborhood
Tulsa, OK (PRWEB) May 05, 2012
Tulsa Janitorial Company, Clean Brite Tulsa, recently announced a new hiring initiative 'Hire Local' to benefit Tulsa area business and employees. "You've heard the term 'buy local' Are motto this summer is 'Hire Local' Tulsa has been so good to us and we want to give back by hiring local," says Clean Brite CEO, Tom Green.
"We've been doing the 'Refer a Building' program for over a year and that has created some new quality clients for us and been a huge blessing to our current employees. Our new 'Hire Local' initiative rewards our current employees who bring us referrals. While following EOE guidelines we've found a great way to add an incentive to our current employees who find new business for us and we create a 'win-win'.
The program also deals with trying to match applicants with facilities that need janitorial in their location. For example hiring a new subcontractor to clean a Church or office for us in Owasso just makes sense, rather than sending a South Tulsa or Broken Arrow employee across town, not only that they save a ton of gas. We have also rewarded employees who have brought us referrals that have turned into business," reports Tom.
Clean Brite Tulsa uses Select Force, an Oklahoma-based background screening Company that does full OSBI background checks on all of their employees and contractors, this in addition to being bonded and insured so that customers from Manufacturing, Medical, Banking and Schools and Churches feel safe leaving their keys with Clean Brite.
Because of the nature of the Janitorial Industry workers have typically been part-time. By rewarding their part-time employees with bonuses, Clean Brite has, in essence, trained their custodians on how to be marketers and it seems to be working for them.
"While it's true the economy hit us hard with companies leaving town for Houston and other locations we've been thankful to grow and reconnect with the local business owners in the medical, retail, educational and other specialty industries. Readers can see recent in the news segments on Clean Brite Tulsa.
Companies, business owners and facility managers can visit CleanBriteTulsa.com to request a quote for janitorial services and ask for a free Indoor Air Quality Report to find out if they work in a 'sick' building. Clean Brite Tulsa recently featured in the news for being a leader in the green environmental friendly cleaning space in Tulsa, Oklahoma.
Clean Brite Tulsa provides quality janitorial and commercial cleaning services in Tulsa, Broken Arrow, Bixby, Owasso, Oklahoma City, Joplin, Claremore, Ft. Smith Ar & Dallas, Tx. Services include: Carpet cleaning, tile floor buffing, stripping, waxing and propane buffing of VCT.