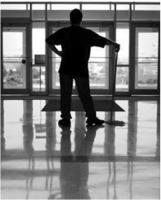 As with individual products, cleaning services might profess to be green but in fact employ one or more products that release VOCs. Much better are cleaning services using products containing naturally derived surfactants that do not add toxic chemicals to the waste stream that eventually drains into our waterways.
New York, NY (PRWEB) August 4, 2009
For many years the byproduct of a thorough housecleaning was bad air. Not dust motes but dangerous chemicals called volatile organic compounds (VOCs) that are released into the air by common cleaning products such as detergents, polishes, bleaches and ammonia, according to First Class Cleaning, based here.
"VOCs can be extremely toxic and can damage the health of people and pets exposed to them over time," says George Blajeski, the company's owner. "Emissions caused by household cleaning products come under the Indoor Air Quality (IAQ) classification of the U.S. Department of Environmental Protection. They are listed along with mold, lead, formaldehyde, radon and carbon monoxide as links to a host of health problems. Other sources of VOCs include air fresheners, aerosol sprays, degreasers, wood cleaners, waxes and disinfectants. And because modern construction techniques render homes more thoroughly insulated for energy conservation, VOCs tend to dissipate slower than in the past."
The Trend to Green Cleaning
Awareness is the key to safe but thorough household cleaning, Blajeski says. "Sources of information have grown over recent years, an example being the Green Cleaning Network." According to its website, green cleaning is defined as cleaning to protect health without harming the environment. A green cleaning program goes beyond chemical and equipment choices. It includes policies, procedures, training and shared responsibility efforts that minimize the impact of cleaning materials on the health of building occupants and protect the environment as a whole.
"As another example," Blajeski says, "Greenseal.org is in the process of proposing standard GS 49 for residential cleaning services such as ours. Green Seal estimates that cleaning products contribute approximately eight percent of total non-vehicular emissions of volatile organic compounds, which can cause eye, nose, and lung irritation, as well as rashes, headaches, nausea, asthma, and, in some cases, cancer."
A solution to improving indoor air quality is substituting organic cleaning compounds for the more traditional chemically based products. "While safer products can be created by home recipes homemakers with heavy work schedules and family obligations may balk at the time and effort involved in doing their own blending," Blajeski comments. "Instead they may rely on labels to determine whether or not a commercially available cleaning product is 'green.' Unfortunately, most homemakers do not have a degree in chemistry and may find it difficult to decipher what actually is in a product and whether or not it is environmentally friendly. A good tip is to select a product that gives the most detailed information on content, biodegradability and other factors. Good things to avoid are products containing chlorine bleaches, ammonia, phosphates, corrosives and petroleum derivatives."
The Alternative: Selecting a "Green" Cleaning Service
Residential and commercial cleaning services provide an alternative to doing it yourself, but require some homework to select candidates with green credentials, Blajeski points out. "As with individual products, cleaning services might profess to be green but in fact employ one or more products that release VOCs. Much better are cleaning services using products containing naturally derived surfactants that do not add toxic chemicals to the waste stream that eventually drains into our waterways."
Such products are employed by First Class Cleaning, which was established in 2005 after the company's founder and president realized from 10 years of experience in the industry that a high level of personal service was sorely lacking. The company's commitment to green cleaning is exemplified by its use of 100 percent biodegradable organic products produced by Method®. "These eco-friendly cleaners are powerful formulas made with naturally derived surfactants that work by absorbing dirt rather than chemically degrading it," Blajeski explains. "Examples include no-wax almond-scented wood and floor cleaners, biodegradable leather wipes, a cucumber-scented spray cleaner, and cleaners for stainless steel, granite and marble. Unlike many cleaning products these provide a pleasant but not overpowering scent."
A Check List for Green Cleaning Service Providers
Finding a professional cleaning service is not difficult, as a Google search for such services will quickly disclose. Hiring the right service calls for more diligence. First Class Cleaning has identified several key concerns of householders who may harbor misgivings about having individuals in their home when they may not be there to supervise. Quality checks are performed with every service so satisfaction is guaranteed. Housekeepers are;

Thoroughly screened and trained in the use of the products
Bonded and insured
Arrive with all necessary cleaning supplies and equipment or will use customer's supplies if requested
Adaptable to customer's schedules and recognize that schedules may change
Adaptable to the customer's specific cleaning requirements - provide customized services as requested by the customer
Assigned to customers for ongoing visits if customers so request
Commercial Properties Not Exempted
"Green cleaning is a major topic on the commercial front as well," Blajeski says. "The U.S. Department of the Interior addresses this on their greening website with the comment that using environmentally friendly, less-toxic products is just one step in the process of setting up and implementing a successful green cleaning program." The posting* goes on to say many cleaning products contain chemicals and other ingredients that, when mishandled and misapplied, can adversely affect human health. Data from the State of Washington show that 6 out of every 100 janitors have lost-time injuries every year. Injuries common to janitorial workers break down into the following categories:
40 percent of janitorial worker injuries involve eye irritation or burns
36 percent involve skin irritation or burns
12 percent involve breathing chemical fumes
"This provides powerful motivation for using eco-friendly green cleaning products for residential and commercial properties," Blajeski concludes. "Companies such as First Class Cleaning are ready to work with customers to develop a safe and sustainable cleaning program that protects occupants and the environment alike."
###