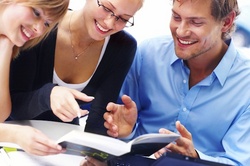 Atlanta, GA (PRWEB) March 9, 2011
Maid Brigade Inc.'s reported monthly sales in December 2010 have nearly tripled as compared to the previous four months' average increase, resulting in the biggest growth in a single month for the green cleaning franchise since the "recession" hit more than two years ago.
December 2010 same store sales for Maid Brigade were up 6.8 percent with total system sales up 8.6 percent over December 2009. From August to November 2010, the cleaning service franchise reported an average three percent increase in sales.
This is coupled with promising projections that residential cleaning services revenue will hit $14 million by 2014 with maid services revenue to reach nearly $10 million that same year. And demand for household cleaning services is projected to grow by seven percent overall, according to research by Mediamark Research, Inc., TGE Demographics, Inc., and the U.S. Bureau of Labor Statistics
"This is a very encouraging sign of what's to come for Maid Brigade and the home services marketplace as a whole," says Bart Puett, president and CEO of Maid Brigade, Inc.
Demand for residential cleaning services is driven by time starved, dual-income households. As more consumers experience time constraints and added home and lifestyle pressures, Maid Brigade has seen residential cleaning services evolve into the number one service request by women.
In addition, as the number of empty nesters continues to rise and "middle age" households move into the 55 to 64 years old age group, this will propel the growth of many services, including domestic cleaning, within their age bracket.
"By all accounts, these driving factors and our steady sales increases point to an extremely promising future for Maid Brigade," comments Puett.
Leading the fastest growing segment of the home services industry, Maid Brigade is capitalizing on its current momentum and expanding into the Kansas City, Mo., Oklahoma City, Okla., and Norfolk, Va., markets. The house cleaning franchise is waiving royalty fees for six months for the first franchise opened in any new market.
About Maid Brigade Inc.
Maid Brigade Inc. is the only Green Clean Certified® residential cleaning services company with more than 400 franchise locations throughout the U.S. and Canada. Ranked a "Top 500" franchise by Entrepreneur magazine for more than a decade, Maid Brigade is a low investment, high return, and recession resistant business opportunity that offers a great lifestyle. For more information visit http://www.maidbrigadefranchise.com or call 1-800-722-MAID.
###