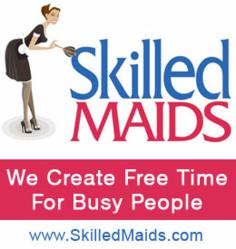 We are not worried about our competition - says Liliane - we are worried about giving our best to our customers, that's what makes us different
Rockville, Maryland (PRWEB) September 30, 2011
Skilled Maids cleaning services company in Maryland is growing fast and is actively searching for new team members to join their team. "It's very fun and rewarding to see how the company is growing, but it's not so much fun when you have to do extra work" said founder of Skilled Maids Liliane Lima as she smiles.
The ideal candidate for Skilled Maids is someone with a real enthusiasm to help our new and existing customers; someone with attention to details, and finally, someone who enjoys learning and works well with other team members.
Skilled Maids cleaning services in Maryland was built on a strong customer and service oriented foundation and it's determined to maintain their great reputation. "Our clients almost always comment on our great service and how we really go the extra mile to understand their exact needs" says Liliane. We understand that the cleaning services industry around the Washington DC metropolitan area is very competitive these days, but as a business they have positioned themselves at their customer's level. They enjoy serving their customers and most importantly they love what they do. "We are not worried about our competition" says Liliane, "we are worried about giving our best to our customers, that's what makes us different".
The cleaning industry in many ways has become a commodity like many other industries, mostly due to the economic downturn and recession we find ourselves in. We believe that people are doing everything they can to survive and in many cases turn their experience into businesses. But it takes much more to run and operate a business than just experience. This is one of the reasons markets have found themselves affected by bad reputation or bad quality of service. Customers are becoming much smarter about finding the right companies to hire, and they are doing much more research on who they hire. Building a good reputation is not something that happens over night, Skilled Maids understands this, they have been building their reputation for years now.
Skilled Maids is a cleaning services company located in Maryland but serving the entire Washington DC metropolitan area, including cities such as Rockville, Bethesda, Chevy Chase, Gaithersburg, McLean, Alexandria, Potomac, Tyson's Corner, Sterling, Vienna, Dunn Loring, Arlington and many more. You can contact Skilled Maids at 703-459-4286.
###