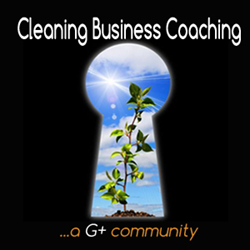 Cleaning Companies clean the world from the outside in. We are creating a Google+ Community that works on their businesses from the inside out
Hauppauge, NY (PRWEB) April 30, 2013
Google+ Communities are giving industries a new way to find and share information by creating online forums, with bulletin boards and face-to-face online chats (Google Hangouts), where members can pool their experience to find specific answers to their most pressing business questions.
Online Marketing Muscle, a Long Island firm, is taking that approach to a whole new level by creating a Google+ Community just for cleaning companies called "Cleaning Business Coaching."
Dean Mercado, CEO and co-founder of Online Marketing Muscle, explains, "Cleaning companies clean the world from the outside in. We want to create a group that works on their businesses from the inside out." Mercado also said, "With the right coaching, we realized that our clients in the same industry could be great advisers to each other."
The online marketing company have been coaching residential cleaning companies for more than 5 years. Now are expanding their reach by hosting the online business community for cleaning companies. The idea is to create a space for owners to compare notes about the issues they have faced successfully and are still facing, while having experts facilitate the process.
Bill Baylis, COO of Online Marketing Muscle, said, "Owners of cleaning businesses currently can choose online groups that focus on very specific issues—details of cleaning wood floors, how to handle client disputes, etc. We wanted to create an online group for cleaning companies of a similar size that gets right into the nuts and bolts of business success. Of course, our specialty is creating marketing plans and building sales, but we want our clients and other, similar companies to access advice on other issues as well."
This invitation-only group is designed for owners and key personnel of cleaning companies who are serious about building their business through best business and marketing approaches. Most online industry forums include companies of various sizes. All those companies share many concerns, but size does matter—smaller companies face problems that larger companies faced and solved in the past. By limiting membership to a narrower slot, Online Marketing Muscle hopes to increase the Community's usefulness to its members.
It's free to join but a Google+ Account is needed. To request access to the Google+ Community visit http://www.CleaningBusinessCoaching.com
Online Marketing Muscle is a Long Island-based Internet marketing consulting company that helps service businesses to use the Internet in building their visibility and credibility. It offers Internet marketing coaching and Internet marketing consulting to help its clients focus on the best path to success.
Dean Mercado, CEO and co-founder of Online Marketing Muscle, is a well-known marketing coach, strategist, author, and speaker with expertise on helping small business and independent professionals leverage the power of the Internet to increase their visibility, credibility, and reach, within their target market.
Bill Baylis, COO of Online Marketing Muscle, is a business-turnaround expert who has made his life's work out of creating new revenue-generation methodologies, operational procedures, sales techniques and marketing strategies for business.