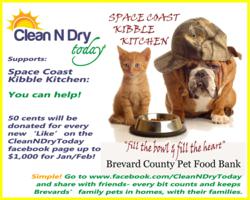 "We see a huge value in the efforts to keep pets in homes- before they go to the pound. We hope everyone joins us in supporting this cause." Chad McKenzie, Owner/Operator, CleanNDryToday.com
Brevard County, FL (PRWEB) January 10, 2013
Clean N Dry Today is a family-friendly, premier carpet cleaning company servicing both Brevard and the greater Orlando area who believes in giving back to the community and is doing so by supporting Space Coast Kibble Kitchen, Brevard's only pet food-bank.
Owner/Operator, Chad McKenzie, who moved to Central FL from Virginia in April of 2012, was looking for a way to connect with the local community and let those who may be interested in his services know about his business. When he learned about Space Coast Kibble Kitchen's mission, he knew he found an organization the community, he, and his customers could support.
"As an animal lover and a dog owner myself, I saw an organization stepping up to help those in need who are going through financial struggles- the last thing these families need is to lose their pets when they are down", stated McKenzie. "In addition to having my heart strings pulled, I recognized that many of my carpet cleaning customers have pets and small children, and if they knew about this organization, they would support it too."
With a signature 'Keep It Clean Guarantee', McKenzie's company offers their customers a $5 trip charge to return and re-clean new spills, high traffic areas, or new pet stains for a full calendar year after they have had carpets cleaned, sanitized, and protected. McKenzie believes this, in addition to attention to detail and the company's strong service-ethic, separates his services from the rest.
"We offer this guarantee as a way of saying thank you to our customers and recognizing they are living in their homes, with pets and kids, parties, and holidays- it's just the right thing to do. We want customers for life and for them to tell their friends and family. If we provide great service all year, not just the day of cleaning, we think they'll do just that."
Kibble Kitchen is a non-profit organization who helps families, who are currently suffering financially, keep and feed their family pets so they don't have to turn their furry family members into the pound, which is devastating for the family and often means death for their pets.
According to Space Coast Kibble Kitchen, each month they are almost completely out of food, showing the need is great. Those interested in applying for assistance may find the required information at this link: How To Qualify.
Thanks to Clean N Dry Today, you can support Space Coast Kibble Kitchen by 'Liking' their Facebook page at this link: http://www.facebook.com/CleanNDryToday. For every like, 50 cents will be donated to the organization for both January and February of 2013, up to $1,000.
McKenzie reiterates, "We see a huge value in the efforts to keep pets in homes- before they go to the pound. We hope everyone joins us in supporting this cause."