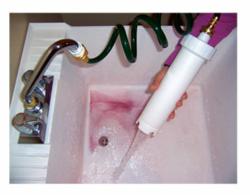 According to the review team from The Family Handyman, "The Rejuv-a-Roller is so easy to use that we don't mind cleaning roller covers. Instead of buying cheap roller covers and throwing them away, we can buy top-quality covers and reuse them."
(PRWEB) July 26, 2011
Timeless Innovations announced today that it's product, Rejuv-a-Roller was selected by consumer magazine, The Family Handyman as one of this year's "2011 Best in Do-It-Yourself (DIY): Painting Gear Products" which features the year's top product innovations geared toward the painting and home improvement market.
"We are honored that Rejuv-a-Roller was selected as a Top DIY Product in 2011 by The Family Handyman magazine," says Collin Budron, Inventor of Rejuv-a-Roller and owner of Timeless Innovations. "My goal in creating a powerful paint roller cleaner was to not only save time and money when painting rooms with rollers, but to save the environment by not having old rollers with PVC cores end up in the landfills across the nation. Being recognized by such a prestigious leader in home improvement as Family Handyman magazine was an unbelievable accomplishment."
Rejuv-a-Roller (retails for less than $30) is the original, patented paint roller cleaner that dramatically cuts down paint roller cleaning. This unique paint roller cleaner works by slipping a used paint roller into a plastic tube with adjoining hose that connects onto any standard faucet. When the faucet is turned on, the tube creates a high pressure wash that removes the paint from the roller and flushes it out the bottom of the plastic tube. Within approximately 30 seconds the water will run clear, indicating the roller is clean.
According to the review team from The Family Handyman, "The Rejuv-a-Roller is so easy to use that we don't mind cleaning roller covers. Instead of buying cheap roller covers and throwing them away, we can buy top-quality covers and reuse them."
"The Rejuv-a-Roller started out as a simple idea that enabled my wife and I to paint our new home addition using multiple colors without the laborious chore of spending hours cleaning paint rollers – not to mention wasting money on having to buy several rollers," stated Budron. "I realized that 90% of the water was going around the roller and down the drain ineffectively and decided if I could take 100% of the water and have it go through the nap 100% of the time I could dramatically cut down cleaning time. And, from there the Rejuv-a-Roller was born."
About Rejuv-a-Roller
Rejuv-a-Roller is the original and premier paint roller cleaner for the residential and commercial painting industries. In 1997, this revolutionary and innovative paint roller cleaner was launched to the home improvement world in an effort to speed up and eliminate the tedious nature of the paint roller cleaning process for both professional as well as informal painters. With a proven track record of success, Rejuv-a-Roller has achieved much acclaim from the painting industry and continues to be the leading paint roller cleaner available. For more information visit http://www.PaintRollerCleaner.com or http://www.RejuvaRoller.com or e-mail us at sales(at)timelessinnovations(dot)com.
About The Family Handyman
The Family Handyman is the DIYers best friend, offering a variety of print and digital resources for do-it-yourself homeowners. Their forte is accurate and complete how-to instructions for improving homes, yards and vehicles. They publish The Family Handyman magazine, the oldest and largest publication for DIYers, and a variety of newsstand publications in addition to an informative website. The Family Handyman is part of the Reader's Digest Association family of brands, including Taste of Home, Allrecipes.com, Birds & Blooms, Everyday with Rachael Ray, and of course Reader's Digest.
###