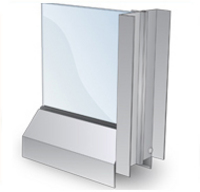 Chesterfield, MO (Vocus) September 1, 2010
As the demand for cleanrooms and environmental enclosures continues to expand, the need for cleanroom building components like window systems has increased as well. To meet the need for a cost-effective, two-sided window, PortaFab has recently introduced a new Beveled Window option to integrate with its line of modular cleanroom and office systems.
Designed specifically for cleanroom applications, the tapered metal extrusion reduces the presence of a window ledge making it easier to clean while the eliminating corners that often collect dust particles and other micro organisms.
"Our cleanroom window product line already included a Flush Window system and Double Flush Window system that were ideal solutions for many cleanroom applications. The new Beveled Window system, however, is a cost effective alternative to the Double Flush Window system that requires two separate pieces of glass and provides the dual room functionality not inherent in the Flush Window design," says Wayne McGee, President of PortaFab.
The new Beveled Window is ideal for interior wall applications where controlled environments exist on both sides of the wall. The system features only one piece of glass with a beveled bottom extrusion that minimizes dust and organism collection and is easy to wipe down, further helping cleanroom owners achieve FDA compliance.
The new cleanroom windows can accommodate numerous sizes and materials to meet the specific needs of one's application and integrates seamlessly with all of its modular wall and ceiling systems. Windows can be hermetically sealed and coated with a desiccant finish while insulated glass units or double flush glazing can be easily incorporated into most designs.
For more information about cleanroom windows from PortaFab visit http://www.portafab-cleanrooms.com/components/windows.html
About PortaFab
Located in Chesterfield, Missouri, PortaFab has been a leader in the manufacturing and design of pre-engineered modular building systems for over 30 years. PortaFab offers a full line of modular building systems and specialty construction products with unlimited flexibility and choices. Product categories include Modular In-Plant Offices, XTRA-TALL Walls, Cleanroom Systems, Booths and Shelters, and Wall Partitions. PortaFab's products are sold through a network of over 500 distributors, many of whom offer assistance in design and construction. For more information, visit http://www.portafab.com, http://www.portafab-cleanrooms.com or call 1-800-325-3781.
###