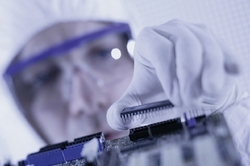 April 22, 2010 (Vocus) April 22, 2010
It is advantageous when a company can trust one material to perform numerous functions and therefore be placed into more than one application. That is the versatility of Static Intercept®, an Intercept Technology™ product. Like other Intercept barrier packaging, Static Intercept has solved problems for many companies shipping and storing all across the globe. Their products are safe from corrosion, electrostatic discharge, and fungus when wrapped in Static Intercept polyethylene flexible plastic. Because Static Intercept is inherently clean, it can be processed to be used as a cleanroom film. That is not the case for all protective packaging materials.
As defined in Wikipedia, a cleanroom is an environment, typically used in manufacturing or scientific research, which has a low level of environmental pollutants such as dust, airborne microbes, aerosol particles and chemical vapors. More accurately, a cleanroom has a controlled level of contamination that is specified by the number of particles per cubic meter at a specified particle size. In order to achieve this level of air and surface cleanliness, special air filters trap particles from circulating in. It is thus extremely important; in order to keep the environment to the levels specified for that cleanroom, materials introduced do not contaminate that environment.
The applications for Static Intercept inside a cleanroom vary. For instance, manufacturers of highly sensitive electronics, such as aerospace companies, may need an anti-static film to protect components and equipment from electrostatic discharge and electron fields. Those items wrapped in Static Intercept are safe from not only the static charges and fields but also corrosive gases which may not be trapped by the air filters. Sometimes products may need to be packaged inside a cleanroom for shipment or storage.
Static Intercept can be processed to the appropriate cleanliness levels in bags, pouches, rolls, sheets, interleaf films, tubing etc. For those readers that are familiar with cleanroom levels, Static Intercept products and a related material, RIBS MVTR, can be processed to Class 100 and ISO Class 5.
Intercept Technology Packaging has been shown to reduce carbon footprint when used by manufacturers to replace other packaging.
Liberty Packaging Co., Inc. is a woman-owned business in Massachusetts. Their primary product line is Intercept Technology Packaging for corrosion and static protection.
###