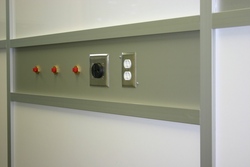 Additionally it makes the cleanroom look less cluttered and more organized.
Burnsville, Minn. (PRWEB) July 24, 2008
Gerbig Engineering, a designer, fabricator and installer of cleanroom systems, announced today that they are now offering a utility panel for integration into its AireCell Modular Cleanroom. The panel is 1/8" anodized aluminum and is held into the framing with a custom made gasket system.
The panel is used for mechanical and electrical connections feeding into a cleanroom. Gerbig Engineering has several CAD drawings for various connections to the panel. Pictures of this product can be seen at the Gerbig Engineering Website http://www.gerbig.com.
"This product really facilitates the electric utility installation into our AireCell cleanrooms" said Fred Gerbig, President of Gerbig Engineering. "Additionally it makes the cleanroom look less cluttered and more organized."
Gerbig Engineering has recently introduced a number of products that enhance or supplement its cleanroom products, among them include the cleanroom air diffuser, the raceway system, and the system for injection mold presses.
Gerbig Engineering is a privately owned company located in Burnsville Minnesota. The company specializes in design and fabrication of cleanroom systems including softwall cleanrooms, modular cleanrooms and clean room work stations. Gerbig Engineering also does cleanroom certification and consulting. Gerbig Engineering products are used in many applications including medical cleanrooms, pharmaceutical cleanrooms, semiconductor cleanrooms and cleanrooms for microelectronics.
###