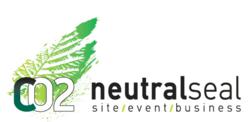 The overall effect of using CO2NS Website is an improved company image, as an environmental friendly site is a symbol of ethical business
Athens, Greece (PRWEB) December 09, 2011
CO2 Neutral Seal today officially announced the launch of CO2NS Website, an innovative new product that makes a website carbon neutral through its visitor statistics. This new, cost-effective approach offsets website emissions.
CO2NS Website's offsetting approach uses Google Analytics API to conduct a daily detailed analysis of a company's website including its visitor statistics. The results are then matched with its corresponding environmental impact data. The website's CO2 footprint is calculated by taking into account both the server usage and visitors statistics. Finally, based on the daily statistics, the CO2 footprint is neutralized with high-quality carbon credits, which are reserved from the registration date of the company's website.
The process is easy and simple for organizations to set up and integrate into their websites. Users are only required to set up a Google Analytics account to link to the application via co2ns.com. Users are given an online summary of their website's status together with a detailed report from the CO2 Neutral Seal system via the CO2NS Registry (http://www.co2ns.com/registry) while an online summary of CO2 Website status is also available to the public.
"The overall effect of using CO2NS Website is an improved company image, as an environmental friendly site is a symbol of ethical business," said Dr Ioannis Pappas, CEO of Green Evolution SA.
By adopting the CO2 Neutral Seal-integrated management system, companies are assured of meeting the climatic and environmental goals they have set. It also certifies that the requisite accounting standards were applied and guarantees that the procedure is accurate, consistent, and 100% transparent, with a Real time monitoring of the IT offset process.
CO2NS Website enables companies to make their websites carbon neutral for as low as €99/year. Several leading global companies have already adopted the CO2 Neutral Seal offsetting approach, accounting for several tons of CO2 that has been offset by the application so far.
ABOUT CO2 NEUTRAL SEAL
CO2 Neutral Seal, a creation of Green Evolution SA, is a Quality Assurance Label that qualifies an entity, a company, or an individual for a carbon neutrality claim and a carbon offset procedure. They feature an innovative range of reliable carbon management services for greenhouse emissions from IT usage both in private and public sectors, events, and general business operations. The application is based on a revolutionary certification procedure that is customized to help individuals and businesses meet their target climatic objectives by covering the calculated greenhouse emissions or offsetting the gases. For more information, visit http://co2neutralseal.com, or email info(at)co2neutralseal(dot)com.
###