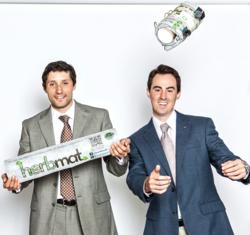 Earth Starter was selected from an elite group of cleantech entrepreneurs
Washington, DC (PRWEB) June 06, 2013
The Cleantech Open Southeast Region today announced the selection of 24 companies, called semi-finalists, to participate at the regional level in the 2013 Cleantech Open national accelerator program. Earth Starter, a Maryland based company and creator of all-in-one roll-out Nourishmat and Herbmat urban gardening systems, was selected from an elite group of cleantech entrepreneurs that applied from across the Southeastern United States. The semi-finalists are representative of applications from a region that covers diverse metro areas and states such as Washington, D.C., Georgia, Florida, Research Triangle Park and Tennessee.
The Cleantech Open is the world's largest cleantech accelerator and is dedicated to providing entrepreneurs and technologists the resources needed to launch a successful cleantech company. Semi-finalists concentrate on innovation across the following technology categories Agriculture, Water, & Waste; Chemicals & Advanced Materials; Energy Distribution and Storage; Energy Efficiency; Energy Generation; Green Building; and Information Technology & Communications.
Earth Starter was started by two University of Maryland alums, Phil Weiner and John-Randal-Gorby, partners whose dream came true today. Starting off as Calc II classmates, the two quickly realized they shared a passion for startups, the environment, urban farming and of course, technology. Joining forces, the two created Nourishmat, a mat that mimics the traditional garden blanket, but is equipped with a slew of advantageous features that allow anyone to garden easily and productively. Fostering the growth of healthy food no matter the outdoor conditions, Nourishmat eliminates the need for pesticides while also preventing those pesky weeds we love to hate from infringing on our produce. Nourishmat seedballs embrace a no-till farming method that allows users to plant 16 vegetables, herbs and flower types without disturbing existing soil communities. All Earth Starter products are made in the United States.
"Our region continues to enjoy strong growth thanks to expanded metro areas that reach entrepreneurs across multiple and diverse technology hubs," said Joshua C. Greene, regional director and co-founder of the Cleantech Open Southeast. "Based on the performance of our 2012 alumni, we are confident that this region can and will continue to grow and accelerate energy and environmental technology companies into attractive ventures that will appeal to investors and sponsors within the region."
Benefits for the regional finalists (e.g. those eligible to compete for the national grand prize) include an award package that consists of combined cash and in-kind services worth up to $20,000. The Southeast regional finalists will join other regional winners from across the United States to contend for the national title at the Cleantech Open's Global Investor Forum on November 20-22, 2013 in San Jose, California and a chance to secure the grand prize of up to $200,000 in investment and services.
The 2013 semi-finalists participating in the accelerator program are listed below and more information on the region can be found on the website.
Semi-Finalists in the Agriculture, Water, & Waste Category
Earth Starter, Innovative Bios, Nitrogent, Re-Nuble, SIGARCA, WiseSoil
Nourishmat and Herbmat, developed by Earth Starter, are innovative roll-out garden systems geared towards empowering people to grow their own food. The design and construction of Nourishmat takes the guess work out of gardening. The Nourishmat, which was officially launched on Earth Day 2011, features built-in irrigation, pre-planted seedballs and strategic companion plant-spacing guides integrated with weed barrier. The product serves as a tool to help busy humans supplement their diets with healthy produce and to promote food growing in their communities. To learn more, visit http://www.nourishmat.com