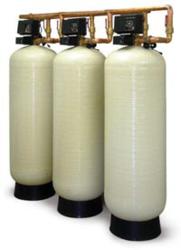 Gerry Bulfin, President of Clean Water Systems & Stores said "our new online water treatment calculators save us and our customers a lot of time and make design and specifications easier and faster".
Santa Cruz, California (PRWEB) September 15, 2012
Clean Water Systems & Stores Inc is now offering its suite of water filtration calculators free of charge on its Clean Water Store web site. The time-saving calculators make it easy for end-users and engineers to design and size water filtration systems online.
Water filtration systems used in water treatment for potable water applications come in a large variety of sizes and designs. Each water treatment system must be designed to meet specific requirements for the application in which it is intended for. The new online calculators make it easy to size and select multi-media backwash filters, and other filter systems such as iron filters, carbon filters, and acid neutralizers.
Each filter media type has a specific rated flow rate at which that media will perform within specifications. The calculators make it easy to input those specifications, and based on the required flow rate decide which size filter tank to select.
Oxidation systems such as chlorine and ozone are commonly used in water filtration and well water treatment systems to pre-treat the water before it can be filtered. The new liquid bleach chlorine calculators allow end-users to quickly determine what size chlorine injection pump to use, and how much chlorine needs to be injected based on common water quality problems such as iron and bacteria.
Ozone gas is another powerful oxidizer that is growing in popularity for use as an oxidizer in water purifying systems. Ozone is used in the bottled water industry for disinfection, and as a pre-oxidant to treat well water for iron, manganese, hydrogen sulfide and other contaminants. The powerful ozone demand calculator makes it easy to select which ozone generator will work for a given application, by entering in known factors such as flow rate and levels of contaminants such as iron, manganese, hydrogen sulfide, bacteria etc. The ozone calculator shows how many grams per hour of ozone is required to treat a given water treatment application using ozone.
Another popular calculator is the Langelier Index calculator. This gives an approximate measurement of the corrosion potential of a given water chemistry. By entering some basic chemistry values for that water such as pH, total dissolved solids, calcium, alkalinity and water temperature, the Langelier index can show if the water might tend to form scale, or at the other extreme cause corrosion of a piping system.
The calculators are available in both English and Metric values.
Clean Water Systems & Stores Inc has been serving homeowners, businesses and small communities on well, spring, surface water and rainwater sources since 1989. With over 10,000 customers worldwide it continues to expand and provide custom water treatment systems for potable water applications