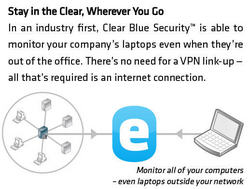 The decision to use Clear Blue is a no brainer, it's like having 70 clones standing by my machines 24 hours a day
Scottsdale, AZ (PRWEB) March 26, 2009
Clear Blue Security™, a global leader in computer network security monitoring, is pleased to announce the launch of their new website at ClearBlueSecurity.com.
Clear Blue Security is a revolutionary Software-as-a-Service (SaaS) based virtual computer network security monitoring assistant. It was launched in Europe in June of 2008 after two years in development and testing. The product rollout continued with its release in the United States in December of 2008.
Clear Blue Security™ is the most comprehensive network security monitoring and remediation tool available for small and medium-sized businesses. Interested parties can download a free trial of Clear Blue Security providing an instantaneous picture of their entire IT security situation that includes every PC and mobile laptop.
The Clear Blue Security virtual security assistant monitors the entire security situation 24/7, including monitoring of installed malware applications, providing status on updates and patching, implementing general company wide security practices, monitoring installed but unapproved software, alerting suspicious and possibly harmful traffic and reporting the vulnerability status of the external security perimeter.
By monitoring their entire network security perimeter with Clear Blue Security, companies and IT managers significantly reduce operating expenses and improve overall company productivity.
"Small and medium sized companies are in desperate need of a solution that monitors the status of their network security status 24/7. Clear Blue Security provides a cost-effective solution that makes it easier to manage the security of these increasingly complicated network infrastructures through use of a 'virtual' network security expert that proactively monitors every installed or mobile computer," said Dennis Thomsen, CEO of Clear Blue Security. "Combining enterprise-level capabilities with a low monthly price, no licensing fees and no lengthy contract requirements is a real game-changer for the small and medium sized companies."
Thomsen continues, "The visionary behind Clear Blue Security is Robert Jensen of Denmark. His ideas for automating IT security solutions through artificial intelligence on what we like to think of as a Web 3.0 platform are truly ground-breaking in our industry."
Clear Blue Security helped transform a one-man IT department into an army of security experts at Pink Jeep Tours, an Arizona-based company with 5 separate facilities. "The decision to use Clear Blue is a no brainer, it's like having 70 clones standing by my machines 24 hours a day," said Andy Mason, network consultant at Pink Jeep Tours. "Clear Blue Security is incredibly fast and does an hours work in 20 seconds, freeing me up to do other mission critical tasks."
About Clear Blue Security:
Clear Blue Security, LLC is a Scottsdale, Arizona based Software Company, which develops and markets Clear Blue Security™, a revolutionary Software-as-a-Service based Virtual Network Security Monitoring Assistant for small and medium sized companies. From its operations and data centers in both North American and Europe, and in partnership with both Managed Service Providers and Value Adding Resellers, Clear Blue Security serves customers all over the world.
###