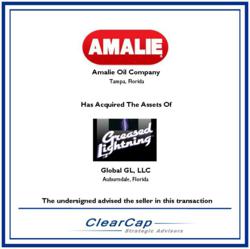 A great example of vertical integration between two longstanding business partners.
Tampa, Florida (PRWEB) July 31, 2012
Amalie Oil Company, a leading blender and packager of synthetic oils, high-TBN lubricants and specialty industrial oils has acquired the assets of Global GL, LLC (dba "Greased Lightning"). Effective with the acquisition, Greased Lightning joins Amalie's extensive family of products which includes AMALIE, Wolf's Head Motor Oil, XCEL, RALLYE and VALUE TECH lubricants.
ClearCap Strategic Advisors, LLC ("ClearCap"), a specialized middle market, investment bank and strategic advisory firm, served as the exclusive financial advisor to Global GL, LLC. The terms of the transaction were not disclosed.
"We are pleased that our client, Greased Lightning, will be able to team with a firm of the caliber of Amalie Oil Company. This is the next stage of a longstanding relationship between these companies" said Alan Marrullier, Managing Director at ClearCap. "The acquisition provides vertical integration synergies for Amalie as it extends its reach closer to the end consumer, expands it brand portfolio and leverages Greased Lightning's customer base and retail shelf space." Greased Lightning's products will augment the Amalie brand portfolio with additional high quality automotive aftermarket additives and chemicals designed to improve performance, protect vehicle components and extend engine life. The brand and product line are distributed internationally.
A packager and blender of a number of Greased Lightning's products, Amalie has had a long standing partnership with Global GL, which provided the framework for the acquisition. Greased Lightning's Larry Mitchell has joined the Amalie team in the capacity of National Accounts Manager.
About Amalie Oil Company
One of the original "Pennsylvania Crude" oil companies, Amalie is a cutting edge, international lubricant blender and packager. With over 3,000 different products including synthetic oils and lubricants the Company ships its products to every state in America and over 100 foreign countries. For more information visit Amalie Oil's website at http://www.amalie.com.
About Global GL, LLC (dba "Greased Lightning")
Targeting the do-it-yourself, commercial and sport compact performance markets, Greased Lightning manufactures and distributes automotive additives, lubricants and chemicals. Its products are sold through thousands of retail locations nationwide and in Mexico. For more information visit Greased Lightning's website at http://www.greasedlightning.com.
About ClearCap Strategic Advisors, LLC
ClearCap Strategic Advisors is a specialized investment bank and strategic advisory firm serving the unique needs of private business owners and middle market companies. ClearCap specializes in mergers, acquisitions, corporate finance, recapitalizations, exit planning and strategic consulting. For more information, visit ClearCap's website at http://www.clearcapadvisors.com.
CONTACT:
Alan Marrullier, Managing Director
ClearCap Strategic Advisors, LLC
727-470-6074
alan(at)clearcapadvisors(dot)com
http://www.clearcapadvisors.com