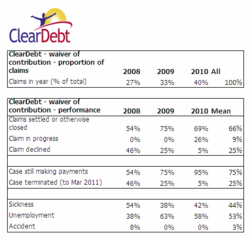 Andrew Smith, director of marketing and external affairs for ClearDebt, commented: "The banks are about to repay billions because they miss-sold payment protection insurance (PPI), at high premiums, to millions of people who either did not understand what
(PRWEB) May 19, 2011
http://www.cleardebt.co.uk Analysis of the three-year claims history of ClearDebt's IVA Protect product indicates that a PPI-type product is helping people with debt problems, who suffer unexpected changes to their income-earning potential, to keep on paying their creditors and becoming debt-free.
The figures, from 2008 to 2010, for ClearDebt's IVA Protect product, show that 66% of those who claimed in the last three years had their claims settled and that 75% of those that had made claims since 2008 were still, in April 2011, making payments into their IVA and, thus, to their creditors.
Statistics from 2008 to 2010 for ClearDebts IVA protect product, indicate a 20 percent growth in unemployment claims with 58 percent of policy claims last year being attributed to this. In 2008 only 27 percent of people who had policies made claims on them this grew to 33 percent in 2009, with a total of 40 percent of policy holders claiming in 2010.- Amounting to a 13 percent increase in two years. Interestingly false claims in 2010 have dropped by 41 percent in comparison to 2008.
Payment protection insurance, PPI, is meant to cover loan or credit card repayments in the event you suddenly lose income due to sickness or unemployment. ClearDebt's IVA Protect product works almost identically to a PPI, helping people continue to repay their IVA contribution when they become ill or unemployed.
Andrew Smith, director of marketing and external affairs for ClearDebt, commented: "The banks are about to repay billions because they miss-sold payment protection insurance (PPI), at high premiums, to millions of people who either did not understand what they had bought or could not make a claim when they lost their source of income.
ClearDebt's product clearly works, is value for money and, as well as keeping people in IVAs, benefits the banks because they get their debts repaid. It's odd, therefore, that creditors have sometimes tried to reject this plan even though it is clearly of real benefit to people."

Notes to editors:
Comment and Interview:
Andrew Smith, ClearDebt Director of Communications and External Affairs, will be available to comment.
Andrew is the spokesman for Debt Resolution Forum and has spent more than 25 years in professional services marketing – half of that specialising in insolvency and debt, and played a major role in raising the profile of the insolvency profession and it's regulatory and representative bodies. Andrew is a member of the Chartered Institute of Public Relations and also has diplomas from the Chartered Institute of Marketing and the Communications, Advertising and Marketing Foundation. http://www.cleardebt.co.uk/blog/author/andrew-smith/
About IVA Protect product
ClearDebt's IVA Protect product protects people's IVA payments. It is provided as part of every ClearDebt IVA as ClearDebt, not the client, is the insured party, For legal reasons, it cannot be termed a payment protection insurance, to all intents and purposes it functions identically to one.
It makes IVA payments for up to 12 months, up to three times in any five year period – with not less than a month between each claim. If people can't pay their monthly IVA contribution because they become unemployed, get ill or have an accident have their, hence function just like a PPI.
The business model for this is interesting, they created a captive insurance company to provide the IVA Protect product.- ClearDebt is the insured party so every client gets IVA gets the cover. -Where the creditors agree –they pay 3.25% of the IVA contribution value, where they don't ClearDebt pays.
Website: http://www.cleardebt.co.uk
For more information, please contact
Lexi Mills lexi.mills(at)distilled(dot)co(dot)uk
London: 020 7183 0767 Mob: 079 2102 0345
###