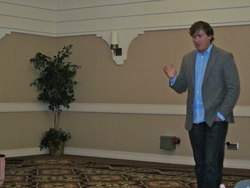 Salt Lake City, UT (PRWEB) November 11, 2010
CLEARLINK Technologies, a Utah-based sales and marketing company, has always done things a little differently. So, when employees listed 100% health care coverage as their primary concern to CEO Phil Hansen at a "town hall" meeting a few months ago, Phil and the CLEARLINK HR department got busy.
"We didn't want to just give our employees complete health care coverage, we wanted to engage them in a program that would change their lives," said Director of Organizational Development, Cammie Cable.
The announcement came along with news of $50,000 life insurance and 401k plans for all employees. The standing ovation said it all.
"Thanks for listening!" wrote employees on the company Facebook wall, http://www.facebook.com/clearlinkers . Just months earlier, at a company meeting, CEO Phil Hansen asked employees what they wanted most from the company. Full health care coverage made the top of the list and Phil, Cammie and others got to work.
As with most things at CLEARLINK, full health care coverage would not just be given to employees, but earned. Not by reaching sales quotas or departmental goals, but by an individual commitment to health and happiness. To get the coverage, employees would have to participate in a wellness program unlike any other.
After reviewing the possibility of outsourcing a program and benchmarking best practices, CLEARLINK decided the only way it could have a wellness program would be by doing it the CLEARLINK way. In a matter of months, CLEARLINK developed 360° Fit, a unique set of wellness initiatives designed to engage employees, and encourage smarter and healthier lifestyle choices.
The 360° Fit program functions on a monthly point system that allots points to employees for meeting regularly with a wellness coach (CLEARLINK partnered with Gold's Gym to provide this piece), attending onsite classes (from internal and external resources), using discounted gym memberships, participating in athletics and outdoor activities, among other criteria/activities.
"CLEARLINK is a business built on relationships. It's fitting that the success of its wellness program would be dependent upon its employee's commitment to the relationships they have with themselves, their health and overall wellbeing," said CLEARLINK spokesperson Celeste Chaney.
Each month employees can earn more than 90 points by participating in various activities, classes and meetings, but only a total of 55 points is necessary for an employee to qualify for full health care coverage.
The company will invest over half a million dollars into the program and health care premiums.
About CLEARLINK Technologies, LLC
CLEARLINK is a leading technology-driven sales and marketing firm that provides customer acquisitions for 13 national home service brand partners, including DISH Network, ADT Home Security, and QWEST.
CLEARLINK has received numerous awards and recognition from the Inc. 500, Utah Work/Life Awards, MWCN Utah 100, and Utah's Fast 50, among others.
For more information, visit CLEARLINK's website at http://www.clearlink.com or contact Celeste Chaney at celeste(dot)chaney(at)clearlink(dot)com.
# # #