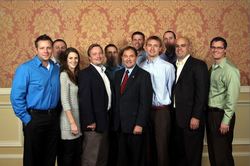 At the end of the day, our bottom line is our people and their ability to do the work.
Salt Lake City (PRWEB) October 22, 2010
CLEARLINK Technologies, a Utah-based integrated local marketing firm, was named Utah's 29th fastest growing company yesterday at the 16th annual Utah 100 Awards program. It was the fourth consecutive year that MountainWest Capital Network recognized CLEARLINK for its extraordinary growth; and the timing couldn't have been better.
In what can only be described as any 12-year-old's birthday wish, CLEARLINK celebrated 12 years of growth and opportunity with 350+ employees, hundreds of slices of pizza, soda, Rock Band and a lot to look forward to, just days before MWCN made the announcement.
CLEARLINK has come a long way since its humble beginnings 12 years ago, growing more than 400% over the last four years and bringing on almost 200 employees, this year alone.
CLEARLINK CEO Phil Hansen has always freely admitted his addiction to growth, and he's spreading the wealth to employees.
"Vision and innovation are crucial to any business, but it is in the execution of an idea that the fate of a company lies. At the end of the day, our bottom line is our people and their ability to do the work," Hansen said.
In addition to incentive programs and quarterly bonuses, CLEARLINK employs the value of life experience for a little extra motivation. Last month, the company took 110 of its top performers on an annual all-expense paid trip to Las Vegas to celebrate another year of growth.
With a company perks list that includes a Porsche Cayman for the employee of the month, incentives trips to tropical retreats like Cancun, Mexico, "Trips of a Lifetime" for two very special employees each year and unprecedented company parties, it's no wonder CLEARLINK has developed a loyal and growing following of hard-working employees.
About CLEARLINK Technologies, LLC
CLEARLINK is a leading technology-driven sales and marketing firm that provides customer acquisitions for 13 national home service brand partners, including DISH Network, ADT Home Security, and QWEST.
CLEARLINK has received numerous awards and recognition from the Inc. 500, Utah Work/Life Awards, MWCN Utah 100, and Utah's Fast 50, among others.
For more information, visit CLEARLINK's website at http://www.clearlink.com or contact Celeste Chaney at celeste(dot)chaney(at)clearlink(dot)com.
About MountainWest Capital Network
MountainWest Capital Network (MWCN) is the largest business networking organization in Utah, consisting of entrepreneurs, venture capitalists, consultants, legal professionals, bankers, and educators. MWCN seeks to promote and recognize business growth and capital development in the state through a variety of award programs and activities.
###