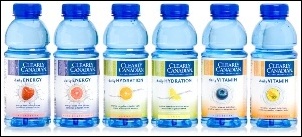 So far, the retailer response to our new Natural Enhanced Water platform has been fantastic
VANCOUVER, British Columbia (PRWEB) March 28, 2007
"So far, the retailer response to our new Natural Enhanced Water platform has been fantastic," stated Jackie Fox, Clearly Canadian Director of Sales and Marketing. "Having been involved in many successful launches of new beverage products, I am exceptionally pleased with our progress so far and the overwhelmingly positive comments we are receiving from the trade and consumers."
About Clearly Canadian
Based in Vancouver, B.C., Clearly Canadian Beverage Corporation markets premium alternative beverages, including Clearly Canadian(R) sparkling flavoured waters and Clearly Canadian dailyEnergy, dailyVitamin and dailyHydration Natural Enhanced Waters which are distributed in the United States, Canada and various other countries. Since its inception, the Clearly Canadian brand has sold over 2 billion bottles worldwide. Clearly Canadian's recent acquisition of DMR Food Corporation marks the Company's debut into organic and natural products with a wide range of dried fruit and nut snacks offerings from Sundridge Farms, Naturalife, Sweet Selections, Simply by Nature and Glengrove Organics brands. Additional information about Clearly Canadian may be obtained at http://www.clearly.ca.
Forward Looking Statements
Statements in this news release that are not historical facts are forward-looking statements that are subject to risks and uncertainties. Words such as "expects", "intends", "plans", "may", "could", "should", "anticipates", "likely", "believes", "estimates", "potential", "predicts", "continue" and words of similar import also identify forward-looking statements. Forward-looking statements are based on current facts and analysis and other information that are based on forecasts of future results, estimates of amounts not yet determined and assumptions of management, including but not limited to, the belief that the Company's new products have been successfully launched. These assumptions are subject to many risks, and actual results may differ materially from those currently anticipated. These risks include, by way of example and not in limitation, general economic conditions, changing beverage consumption trends of consumers, the Company's ability to generate sufficient cash flows to support general operating activities and capital expansion plans, competition, pricing and availability of raw materials, the Company's ability to maintain the current and future retail listings for its beverage products and to maintain favorable supply, production and distribution arrangements, laws and regulations and changes thereto that may affect the way the Company's products are manufactured, distributed and sold and other factors beyond the reasonable control of the Company. Additional information on factors that may affect the business and financial results of the Company can be found in filings of the Company with the U.S. Securities and Exchange Commission and with the British Columbia and Ontario Securities Commissions.