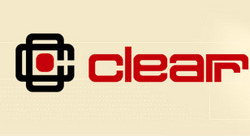 Minneapolis, MN (PRWEB) March 20, 2009
Clearr Corporation will be introducing its new, innovative, ecofriendly and economical StretchFrame(TM) and StretchLite(TM) graphic displays in Las Vegas March 23-25 at both the national Exhibitor Show at the Mandalay Bay Convention Center and Global Shop at the Sands Hotel.
These new backlit and nonlit "frameless" frames eliminate the traditional "framed in" look, greatly increase the visual impact of your graphics, and can be made in virtually any size for less than the cost of conventional frames. The practical size limit is 10' (3m) in any direction, although they can be much longer in one dimension. Sizes larger than 3' x 4' (915 - 1220mm) are shipped in kit form to reduce your shipping costs, and are easily assembled on location.
Clearr Corporation has been an industry leader in graphic display and trade show exhibits for more than 30 years. To learn more about this latest innovation, go to http://www.clearrcorp.com/frameless-displays.html or call Andy Steinfeldt at 1-800-LITEBOX.
# # #