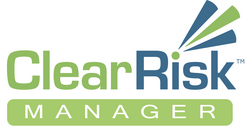 " We wanted Insurance brokers to have an affordable way to provide their clients with risk management plans, risk maps and risk management resources
St. John's, Newfoundland (PRWEB) June 16, 2010
Today ClearRisk™ Inc launches version 2.0 of its ClearRisk Manager application; it includes functionality that will allow Insurance Brokers to interact with clients in ways they've never been able to before.
Clients of Insurance brokers are demanding risk management options that go beyond insurance coverage. Some brokerages are struggling with how to effectively provide these services to their clients. "That's why we built ClearRisk Manager," said ClearRisk CEO, Craig Rowe, "We wanted Insurance brokers to have an affordable way to provide their clients with risk management plans, risk maps and risk management resources – even if they have little to no risk management training."
Using ClearRisk Manager to help identify, prioritize and manage client risks, brokers can offer affordable risk management support to clients; helping clients get the best terms in the insurance market
ClearRisk has built on this concept in Version 2.0, by adding more client and broker collaboration tools, and increasing the speed of the site even more. ClearRisk Manager 2.0 can be used to store, track and share all relevant risk and insurance information such as insurance policies, claims documents, and insurance certificates. It gives Brokers and their clients the ability track progress they make over time.
In addition, ClearRisk Manager 2.0 introduces functionality that allows Brokers to Co-Brand the secure online portal. "It's important for Brokers to have multiple touch points with clients throughout the year" continued Craig Rowe, "Every time a client logs on to ClearRisk Manager to work on their Risk Management plan, the host Broker's logo can be prominently displayed. From the client's perspective, the Broker is providing them with a software solution comparable to those offered by only large multinational brokers." This, in combination with the collaboration tools above, shows the clients firsthand the value the Broker is bringing to their business.
ClearRisk Manager Version 2.0 is designed to be lightning fast. "We've increased the speed of the site by almost 4x," said John Downey, Director of Systems for ClearRisk Inc "we've created a seamless experience for brokers; almost unnoticeable page loads and large reports take only a few seconds, unlike minutes or hours for some competitive systems."
ClearRisk's focus has been on increasing broker profitability with mid-market Risk Management Solutions. ClearRisk Manager 2.0 provides brokers with even more functionality to help them become the preferred provider of risk management and insurance products and services.
The following video is a popular resource for insurance brokers who are evaluating the use of risk management as a value added service.
Top 10 ways to use Risk Management to Increase Brokerage Revenue
# # #