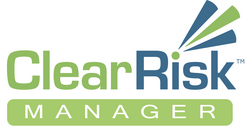 ClearRisk Manager helps Insurance Brokers attract and retain clients
St. John's, NL (PRWEB) February 4, 2010
ClearRisk Inc. (http://www.ClearRiskManager.com) is changing the way that insurance brokers provide value to their clients. In recognizing how risk management services can strengthen client relationships and competitive advantage for insurance brokers, ClearRisk Inc. offers online risk management solutions that can help brokers attract and retain clients, create a better book of business, and cost-effectively increase brokerage profitability.
"Our web-based software products were developed to help regional insurance brokers provide services comparable to those offered by large multinational brokers," says ClearRisk CEO Craig Rowe. "Using ClearRisk Manager, brokers can affordably - and with little or no risk management training - provide their clients with risk management plans, risk maps, risk management resources, software and more."
Insurance Brokers' mid-market clients are seeking risk mitigation options that go beyond the use of insurance coverage. As trusted advisors, insurance brokers are a natural first point of contact. Using ClearRisk Manager to help identify, prioritize and manage client risks, brokers can offer affordable risk management support to clients; offering value-added services that help clients get the best terms in the insurance market. Brokers can create a strong competitive advantage not only for themselves but for their clients as well. Providing such services launches brokers ahead of the competition and empowers clients to be better able to mitigate risks and seize opportunities.ClearRisk Manager helps Insurance brokers attract and retain clients in strengthening client relationships and providing positive loyalty-building client interactions.
ClearRisk Manager is an online risk management solution that helps users identify, prioritize, and manage risks in a cost-effective way ClearRisk Manager provides a planning platform and mitigation tools that help brokers become a preferred provider of risk management and insurance products and services.
The following two white papers have been very popular with insurance brokers as client resources:
Top 10 Ways to Use Risk Management to Increase Brokerage Revenue
Insurance Premiums Are Killing My Business! Controlling Insurance and Claims Costs for Small to Mid-Sized Business with Risk Management
# # #