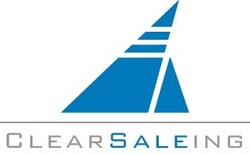 There are tried and true online advertising technologies and strategies that address the unique challenges that lead generation companies (Internet Marketers) face
Columbus, OH (PRWEB) June 2, 2008
ClearSaleing Inc., an online advertising technology company, has announced that Chief Innovation Officer, Adam Goldberg, will be presenting at the Search Marketing Expo Advanced in Seattle.
For his presentation at SMX Seattle, Goldberg will be a speaker for the session, 'Closing The Loop: Are You Tracking Every Lead?' Goldberg will speak to the many challenges that search engine marketer's face with tracking leads in an organized and efficient manner, in order to optimize their online advertising performance. The session will cover topics ranging from tracking and properly valuing all ads that contribute to and influence a purchase, to integrating your online advertising analytics platform with your CRM system, so you can close the loop between individual ads and specific leads and between specific leads and actual sales.
"There are tried and true online advertising technologies and strategies that address the unique challenges that lead generation companies (Internet Marketers) face," Goldberg said. "Internet Marketers that address these challenges first will enjoy a strategic advantage over their competition and will realize the tremendous impact that online advertising can have for their company."
Goldberg, a former Google executive, experienced firsthand the overwhelming challenges that advertisers face in terms of managing, analyzing and optimizing their online advertising campaigns while at Google. Goldberg realized that technology could solve many of the challenges that search engine marketers and online advertisers were facing. He decided to take his ideas and start a business named ClearSaleing, Inc. Goldberg, along with his partners, raised financing and developed an advertising analytics platform that is used by several Fortune 1,000 companies, as well as over a dozen members of the Internet Retailer 500.
SMX Advanced: Seattle will be held June third through fourth. For more information visit http://searchmarketingexpo.com/advanced.
About ClearSaleing
ClearSaleing is a leading technology provider to the online advertising market. Based on a strategic, portfolio management approach to online advertising investment, the ClearSaleing solution represents the next generation in advertising analytics technology. ClearSaleing's portfolio management software delivers an improved, more profitable allocation of a company's spend across a complex mix of online advertising options. At the foundation of the ClearSaleing solution is its patent-pending Purchase Path technology that accurately attributes profit (ROI) across the multiple ads that contribute to and influence the ultimate purchase.
###