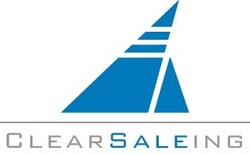 Most companies, even large ones that spend millions of dollars on online advertising, approach the management of their pay per click campaigns in a rather ad hoc manner
Columbus, OH (PRWEB) March 10, 2008
Leader in online advertising technology, ClearSaleing Inc., has announced they will be hosting a Webinar on pay per click methodology. This is the last of their three-part search engine marketing Webinar series titled Optimize Your Online Ad Investment: The Metric, The Measure and The Method.
ClearSaleing's upcoming webinar, The Method: Do You Have a Continuous Improvement for Your Online Ad Investments?, will be hosted by ClearSaleing Co-Founder Adam Goldberg. Goldberg, a former Google insider, developed an online advertising methodology with ClearSaleing that allows for continuous optimization across all online ad sources. Goldberg recognized an absence of a structured improvement approach to pay per click campaigns by most online advertisers. Goldberg found that search engine marketers were unable to maintain and grow from the success they found online and needed an effective methodology to keep up with the ever-changing market.
"Most companies, even large ones that spend millions of dollars on online advertising, approach the management of their pay per click campaigns in a rather ad hoc manner," said Goldberg. "In order to be successful across multiple online advertising media sources and campaigns, companies must use a disciplined methodology that ensures continual improvement over time."
The Method webinar will cover several components of a proven, continuous improvement process for pay per click campaign performance, including: establishing ad budget and performance objectives, classifying the value of your current online advertisements, testing to eliminate unprofitable ads and shifting budget to profitable ads, optimizing allocation across all sources, and continual improvements to the Web site and associated conversion points.
ClearSaleing will host this Webinar on two separate dates, March 20 and March 27, at 1:30 p.m. EST. To register for The Method: Do You Have a Continuous Improvement for Your Online Ad Investments?, please follow this registration link: http://www.clearsaleing.com/MMM.
About ClearSaleing
ClearSaleing is a technology-powered, advertising analytics company and interactive agency. ClearSaleing provides Internet retailers and direct marketers the only accurate way to measure, compare and optimize ROI across their online advertising portfolio. Located in Columbus, Ohio, ClearSaleing is rapidly becoming the choice of online advertisers who need transparency, flexibility and accountability in the management of their online advertising campaigns.
# # #