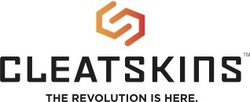 As a former athlete, I have decades of experience wearing out and replacing expensive athletic shoes
ENCINITAS, Calif. (PRWEB) July 21, 2008
Cleatskins conveniently converts cleats into street shoes with two sleek designs, Cleatskins Sole and Cleatskins Golf, constructed of SKINTEK™ rubber, a revolutionary formulation of compression molded rubber. Cleatskins Sole features a flexible shell that fits over plastic and rubber cleated footwear, snugly cupping the shoe from the bottom. Cleatskins Sole fits over almost all cleated footwear, including football, baseball, soccer and other cleated shoes, to make it easier than ever before for athletes to step off the playing field and into the next activity. In addition, Cleatskins Golf offers the same protection and ease of mobility as Cleatskins Sole, but is customized to meet the specific needs of golfers on and off the course.
"As a former athlete, I have decades of experience wearing out and replacing expensive athletic shoes," said Rick Kay, president of Cleatskins. "We created Cleatskins to help athletes enjoy their favorite sports stylishly while saving time and money. With the talent of some the best sportswear designers in the industry, the sleek, practical product fulfills an untapped niche in the industry. We are thrilled with the edgy design and color palette that adds a modern and great looking flair to both the world's most popular sports and everyday fashion."
A pioneering force in sportswear accessories, the distinctive Cleatskins design serves as a time-saving, practical and economical solution for active families. Cleatskins significantly extends the life of cleats by protecting studs from wear and tear. The unique rubber compound also enhances the street-sensibility of studded athletic shoes by improving mobility and safety on asphalt and concrete surfaces. They also create a sealed barrier to keep dirt and grass out of home and car. Cleatskins' unique SKINTEK material is machine washable, making them easy-to-care for and looking like new.
To answer the needs of style-conscious sports enthusiasts, Cleatskins come in a variety of colors versatile enough to complement any shoe, outfit or team uniform. Cleatskins Sole is available in Jet Black, Blue Ribbon, Royal Blue, Kelly Green, Lime Green, Lemon Chrome, Orange, Formula One Red, Hot Pink, Camo Grey, Camo Pink and Liquid Gold. Cleatskins Golf is available in Slate, Burnished Brown, and Pearl. Both styles are available in youth and adult sizes. Suggested retail prices are $17.95 for Cleatskins Sole and $34.95 for Cleatskins Golf.
Inspired by his collegiate athletics and as a father of active kids, Rick Kay, with his wife Marianne, created Cleatskins. The savvy of footwear experts Chris Walsh of CW Resources, Inc. and Erik Purdom of Erik Purdom Design helped refine and perfect the innovation. In addition, the team recruited Tom Carmody, another experienced footwear veteran, to help spearhead sales. Rounding out the team, advertising and branding experts The UXB joined to supply their award-winning expertise in brand development, packaging, advertising and interactive projects.
Cleatskins Sole will debut nationally in specialty athletic retail stores and through e-commerce vendors in Fall 2008. Cleatskins Golf will become available for purchase in winter. Both styles will be unveiled at The World Shoe Association (WSA) show July 28-30 in Las Vegas at booth 6841. For sales and distribution information, please contact Tom Carmody at 781-771-0106 or at info@Cleatskins.com.
About Cleatskins
Launched in 2008, Cleatskins are a revolutionary accessory designed to slip over cleated shoes and quickly and conveniently take athletes from the field to the street. The revolutionary design is crafted from SKINTEK™ rubber, a revolutionary flexible formulation of compression molded rubber. Developed by former college athlete and father of three, Rick Kay, with his wife Marianne, this must-have footwear innovation is available in youth, kid and adult sizes and is designed to meet the needs of today's sports-minded families active in soccer, baseball, football, golf and other outdoor sports. Please visit http://www.Cleatskins.com for more information.