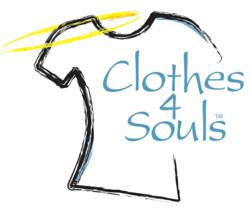 "Cleavitz announced they have partnered to give a helping hand to women in need."
Nashville, TN (PRWEB) November 15, 2011
Clothes4Souls, the charity that is committed to bringing hope and dignity to the hurting through the gift of clothing, and Cleavitz® announced they have partnered to give a helping hand to women in need. The fashion accessory company donated hundreds of women's coverage tops to the clothing charity to assist with their domestic and international mission.
Julie Crotty, Founder and CEO of Cleavitz®, is also the company's chief designer and has a strong sense of social responsibility for her company and the fashion industry as a whole. "I was appalled when I heard the staggering statistic that 85 percent of all clothing purchased in the United States ends up in a landfill," said Crotty. "I don't want any of my garments and my clothing ending up there, and I certainly don't want them to go to waste. That's why I decided to work with Clothes4Souls."
"We are thankful to our friends at Cleavitz® for recognizing the global need for clothing, and the importance of providing quality clothing to women in need," said Wayne Elsey, Founder and CEO of Soles4Souls. "Their socially responsible mindset will help us affect lives for the better."
Companies interested in donation can visit the organizations website at http://www.clothes4souls.org.
About Cleavitz®
Cleavitz® is a half-top fashion accessory that helps women and teens "dress without stress" by solving the cleavage coverage problem that all women face. As the only "real" option to Manage Your Cleavage in Comfort™, Cleavitz® patent pending design adjusts up or down and stays in place without any elastic bands, snaps, hooks or tape. Made in the USA, Cleavitz® increases every woman's ability to wear all of the low cut styles from casual to very dressy, depending on her own personal taste and choice of a variety of styles and colors. Through the Cleavitz® Cares program, Cleavitz® donates 2% of all revenue to fund breast cancer research and partners with like-minded organizations like Clothes 4 Souls. For more information visit http://www.cleavitz.com or call Julie Crotty, Founder and CEO at 877-387-9897 or jcrotty(at)cleavitz(dot)com.
About Soles4Souls®, Clothes4Souls®, and Hope4Souls®
Soles4Souls collects new shoes to give relief to the victims of abject suffering and collects used shoes to support micro-enterprise efforts to eradicate poverty. Soles4Souls' other two divisions, Clothes4Souls and Hope4Souls, provide the same relief and support through clothing and other necessities. Donating parties are eligible for tax advantages. Visit http://www.giveshoes.org for more information.
###