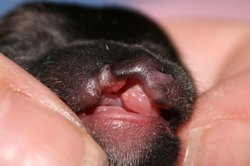 Anything that she would eat would go through into her airway and possibly into her lungs, obviously creating some pneumonia.
Oklahoma City, OK (PRWEB) September 24, 2008
When Emma was 3.4 ounces and 20 hours old, Dena Lamkin adopted her from an ad on craigslist. Emma's face was deformed and her severe genetic oral deformities would not allow her to nurse.
Emma must be fed every two hours 'round the clock using a tube that goes directly into her stomach, bypassing the palate to avoid the cleft.
"She cannot eat food normally," said Emma's surgeon, Dr. Ellen Domnick. "Anything that she would eat would go through into her airway and possibly into her lungs, obviously creating some pneumonia."
The vets diagnosed Emma with a cleft palate, cleft lip and severe facial deformities. Emma survived four surgeries within the first week of her life in an attempt to help her function normally. All provided insufficient results. Emma faces at least another two surgeries in the next several weeks as well as long term orthodontic care.
Dr. Tina Neel of Neel Veterinary Hospital, Oklahoma City, OK has offered to donate part of Emma's treatment, yet Emma's total expenses are already into the thousands.
Strangers send Emma encouragement. She even has some fellow Chihuahua's on her side. Dena says that people began sending Emma gifts and asking to help pay for her surgeries. "The outpouring of love and devotion to this one tiny girl has been just awesome! From her doctors to people we've never even met. She really has touched so many hearts all across the world!"
Donations are trickling in and there is currently an online raffle that Emma supporters worldwide may participate in. Raffle prizes include donated products from Pet Flys, Inc., PetAg and Chihuahua Connection Magazine along with other various businesses and supportive animal lovers. Offers of donated items to be included as raffle prizes are being accepted until October 5, 2008. Businesses and individuals interested in donating products should contact Dena Lamkin directly.
Not everyone has been Emma's friend. Some people say that it's too much effort for one dog.
"You could give that argument. As a veterinarian, I like to think… If I can do one special thing in this world, that's my part," said Dr. Domnick.
Dena has received countless contacts from concerned supporters. The ones that touch her heart the most come from families of cleft palate children and adults who very closely relate to baby Emma's fight. "It's amazing to realize the spirit and determination of those who have gone through just what Emma is going through now."
Emma is 7 weeks old now and weighs 13 ounces. "Emma" means "whole" and "complete". While she's never been whole, Dena believes that one day the tiny Chihuahua will live up to her name and reputation. "I see pet therapy programs in Emma's future. Our way of giving back!"
For additional information you may contact Dena Lamkin directly or visit Emma's online fundraiser or personal website.
How You Can Help Emma The Cleft Palate Chihuahua - Pledge Drive Site & Raffle Information.
Emma's Website - Orphan Cleft Palate Chihuahua.
###