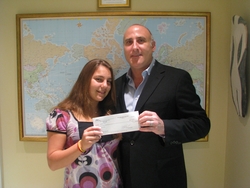 Miami, FL (PRWEB) December 1, 2009
Miami Plastic Surgery hosted a Holiday Smile Party on November 18th and 19th to extend patient discounts on injectables, such as Botox, Restylane, Dysport, Perlane, and others and also offered special prices on skin care products and treatments. The practice made this event even more special by donating a portion of the proceeds to Operation Smile. Miami Plastic Surgery raised $1300 at the Holiday Smile Party to help kids with cleft lip and cleft palate disfigurements.
Operation Smile is a charity that helps children worldwide born with facial deformities such as cleft lip. The doctors have traveled the world to perform surgeries on children in need. This was done in conjunction with Gulliver Preparatory's Operation Smile club. Students involved in the club came to inform patients about Operation Smile as they waited to see the doctors. With as little as $240, a cleft lip surgery can be performed on a child.
Miami Plastic Surgery believes it is very important to give back to the community and to those in need, especially during the holiday season.
"It just seems like the best possible experience at Thanksgiving. It allows our patients to improve their appearance and at the same time contribute funds to help kids born with cleft lip and cleft palate." states Dr. Kelly, surgeon and partner at Miami Plastic Surgery.
Drs. Michael E. Kelly, Carlos L. Wolf, and Brad P. Herman have an extensive reach in the aesthetic surgery community. Dr. Carlos Wolf, for example, writes columns for Cosmopolitan Espanol, the Miami Herald, and Gladys Magazine and makes frequent appearances on Univision's Despierta America. Dr. Brad Herman has appeared on Telemundo news programs explaining his breast lift techniques, Dysport and other surgeries. Dr. Michael Kelly was recently featured on Animal Planet after helping a shark attack victim and featured in American Way Magazine as one of "The Best Plastic Surgeons in America." The entire practice was featured on TLC's bodyWORK show. Donating to Operation Smile is just one more way the practice can help the greater community.
For more information about Miami Plastic Surgery, visit their website.
About Miami Plastic Surgery:
Drs. Kelly, Herman, and Wolf have over 60 years combined experience in their field. They celebrated their 10th year of partnership this year. What has made the doctors so successful in their partnership is that all three of them are specialists in different areas. The doctors have not only attained the highest standards of professional and Board Certifications, but have also earned widespread respect and recognition among their colleagues. Miami Plastic Surgery is not only distinguished by the amazing skill of the doctors, but also for their knowledgeable and professional staff. Located in the prestigious Baptist Hospital, MPS has full hospital privileges whenever necessary. They also offer the latest techniques in peri-areolar breast lifts and breast augmentation, liposuction procedures, as well as other procedures to minimize scarring. The doctors of MPS are frequently called upon by the media to explain new procedures and other developments in the plastic surgery industry.
###