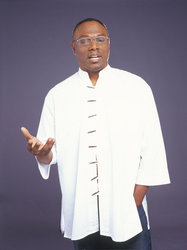 Cultural affirmation is a strategy I developed that helps sustain or stimulate ones' functional relationship to constructive behavior and activity that preserves and reveres who and what they are," explains Cleo Manago.
Los Angeles, CA (PRWEB) October 27, 2010
A socio-political analyst, behavioral health researcher and expert, writer and popular spokesperson on the most controversial issues facing American health today, Cleo Manago has been in the trenches for social reform for over two decades now.
Manago's inventive programs have stimulated the national discourse on HIV/AIDS and Black community health, most notably for appropriate methodologies in mental health and wellness and prevention. He has continually addressed culturally and historically relevant barriers to sexual health, stigma and responsibility, and the challenge of cultural inequity in American society at large. Articulate, opinionated and resolute, Manago has always fought the good fight.
And recently, his efforts have come to fruition. Just this past June, he was invited to the White House by the Obama administration to contribute to a planning discussion on Black men's health! And during a time when non-profits are shutting down and losing funding, Manago has successfully secured financial resources for three of his longtime programs. These accomplishments speak volumes regarding his commitment to the community as a pioneer, a leader and a man of vision.
First up, in a cooperative agreement, the Center for Disease Control and Prevention (CDC) granted the Research Foundation of The City University of New York, on behalf of Hunter College, two million dollars for evaluating Manago's locally-developed risk reduction and prevention intervention for African-American males at HIV sexual risk. Manago's study, called the Critical Thinking and Cultural Affirmation (CTCA) was originally developed in 1994. CTCA is a culturally informed preventive health strategy that addresses positive mental, sexual and community health, encouraging self-actualization, cultural empowerment and responsibility. It has been in practice in Los Angeles, for more than a decade, and in New York City since 2002.
Few appropriate prevention/risk reduction interventions have been specifically designed and evaluated for effectiveness among African American males. "The CTCA model is particularly responsive to what diverse black males go through, as opposed to a generic model with simply a black face. Traditional approaches have used mainstream frameworks, as opposed to those that are more respectful and relevant to black men exclusively, and their experiences," explains Manago. The principal investigator of the cooperative agreement is Dr. Darrell P. Wheeler, Associate Dean of Research, Hunter College School of Social Work in New York City.
Secondly, Manago's Los Angeles-based AmASSI Center for Wellness, Education and Culture, after engaging in a major national competition for resources, was successfully funded to implement an innovative African American preventive health project called Mobilizing Against Growing Incidences of Communicable Disease (M.A.G.I.C.) Black Leadership Initiative. The MAGIC Initiative will focus on diverse Black people, including Black men: hetero, bisexual and homosexual young adult and adult men, and heterosexual Black young adult and adult women. The MAGIC Initiative will guide toward enhancing or discovering critical thinking and leadership skills, unlearning negative media messages and peer pressures, and having pride in who you are (as people of African descent with a rich, power and ancient history) through peer training and development, personal story-telling and role modeling constructive behavior to reduce the risk for health threats.
As the founder and CEO of AmASSI Health and Cultural Center, Manago has provided leadership regarding African American health concerns nationally for two decades. Manago was one of the first innovators in the AIDS movement to reveal that psychosocial concerns were a major determinant to assure treatment adherence and preventative behavior modification. He founded the AmASSI National Centers for Wellness and Health in order to provide HIV/AIDS treatment and prevention services utilizing a psychosocial, mental health model that was culturally specific to African American identity. Opening the first Wellness Center in Oakland, California, the AmASSI Centers now provide services in South Central Los Angeles, Atlanta, Georgia and Harlem, New York. Established in 1989, the AmASSI Community Health & Cultural Centers are committed to the wellness, affirmation, education and preservation of African American health and culture.
"Truly loving ourselves is its own reward," explains Manago, "and that has been the core foundational belief at AmASSI Centers for Wellness and Culture. Cultural affirmation is a strategy I developed that helps sustain or stimulate ones' functional relationship to constructive behavior and activity that preserves and reveres who and what they are. If intact, it can be a shield against personally mediated self, community and cultural destruction, and a powerful source when injurious societal and institutionalized forces attempt to compromise ones' ancestral and self-concepts, & power."
Thirdly, Cleo Manago's organization, Black Men's Xchange was funded by the Center for Disease Control's Act Against AIDS Leadership Initiative (AAALI) program. As part of CDC's innovative campaign, CDC has launched a $10 million, five-year partnership with 16 of the nation's leading African-American organizations. The Leadership Initiative seeks to harness the collective strength and reach of traditional, longstanding African-American institutions to increase HIV-related awareness, knowledge and action within black communities across the United States.
Cleo Manago is the national organizer and founder of Black Men's Xchange (BMX). BMX is the nation's oldest and largest community-based movement devoted to promoting healthy self-concept and behavior, cultural affirmation and critical consciousness among same gender loving (SGL), gay-identifying and bisexual African-descended males, and allies. The CDC's selection positions BMX alongside other legacy community black organization such as NAACP, the Urban League, the Congressional Black Caucus Foundation and American Urban Radio Networks.
"I am extremely grateful to see the fruits of my labor rewarded so generously. It has always been my ultimate goal to create vehicles that decrease health disparities and conflict within the Black community. The benefits of this support, for both of organizations and the CTCA model will hopefully serve to better progress these efforts. I will continue to be an aggressive advocate, and now hopefully my causes will resonate even more. It has been a long journey, but now we can make it around the bend," expresses Manago.
Connect with Cleo Manago at http://www.amassigroup.com/manago.html and BMX and http://www.bmxnational.com.
###