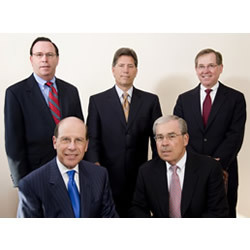 Our clients have put us where we are by entrusting their very challenging cases to our law firm
Cleveland, Ohio (PRWEB) March 4, 2009
Five Cleveland lawyers representing personal injury and medical malpractice cases have been named Ohio Super Lawyers for 2009. This distinction marks the fourth consecutive year in which they have been recognized for their outstanding work on behalf of victims and corporations. The Cleveland attorneys receiving this honor are Peter H. Weinberger, Dennis R. Lansdowne, Peter J. Brodhead, William Hawal and John D. Liber of Spangenberg, Shibley & Liber LLP. In addition, Nicholas A. DiCello has also been named a Rising Star by Ohio Super Lawyers magazine.
"Our clients have put us where we are by entrusting their very challenging cases to our law firm," says managing partner Peter H. Weinberger. "We strive to measure up to their high expectations and are gratified by their continuing confidence in our abilities." This latest recognition confirms the Spangenberg firm's place among the most accomplished tort practices in Ohio and across the nation. "For years, we have served as co-counsel and a resource for outside attorneys seeking assistance with unusual or complex cases," Weinberger explained.
The Ohio law firm's complex tort litigation practice has expanded in recent years to include breach of contract cases, securities fraud litigation and a range of disputes arising in business and insurance contexts.
Attorney Weinberger's own practice has included cases where complex personal injury and wrongful death have been caused by motor vehicle accidents and defective products or resulted in medical malpractice cases. He is experienced in dealing with industrial plant explosions, defective insulation products and defective machinery. Clients suffering catastrophic injuries requiring lifetime medical care have sought counsel from Weinberger, who is skilled at assessing quantitative and qualitative losses resulting from injuries and wrongful death. More recently, he has served as class counsel in several class action lawsuits involving deceptive sales practices. He is a Fellow in the American College of Trial Lawyers.
Also honored by Super Lawyers magazine this year, Dennis R. Lansdowne specializes in cases arising from complex medical malpractice. His tort practice includes commercial litigation and business fraud. Ohio lawyers have seen his name on Inside Business magazine's recent list of Northeast Ohio's 'Leading Lawyers.'
William Hawal, another of the lawyers in the spotlight at Spangenberg, has handled cases concerning defective medical devices, defective machinery, misdiagnosis, product liability, and unsafe pharmaceuticals. Attorney Hawal has joined Peter Brodhead as co-lead counsel in multidistrict MRI gadolinium lawsuits.
Peter Brodhead has handled actions on behalf of clients suffering from defective medical devices, implants, and pharmaceuticals. Many of his cases have been national in scope. Recognition and awards include those from the National Board of Trial Advocacy, certifying him as a Civil Trial Advocate, and the International Society of Barristers, honoring him as a Fellow.
John D. Liber is of counsel to the Ohio law firm, specializing in private mediation and arbitration. His past litigation practice in automotive products liability, construction and railroad crossing disputes serves as a backdrop for his present focus. Liber has successfully mediated disputes pending in both state and federal courts. He has been named an Arbitrator by the International Court of Arbitration in Paris, France.
Cases Handled by Spangenberg, Shibley & Liber LLP:
Spangenberg, Shibley & Liber LLP is a Cleveland law firm that manages cases of wrongful death, personal injury, medical malpractice, negligence, and injuries to individuals and classes of consumers involving defective drugs, medical devices and other consumer products. The Ohio law firm also manages business disputes and prosecutes insurance claims on behalf of businesses and individuals. For more than sixty years, the Spangenberg law firm has devoted itself to representing injured persons and aggrieved businesses. Spangenberg, Shibley & Liber LLP is headquartered in Cleveland, Ohio, at 1900 East Ninth Street, Suite 2400. For more information, Visit SpangLaw.com.
Renee Latkovic - Public Relations Director
Spangenberg, Shibley & Liber LLP
1900 East Ninth Street, Suite 2400
Cleveland, Ohio 44114
Call Toll Free: (877) 696-3303
Local: (216) 696-3232
Fax: (216) 696-3924
###