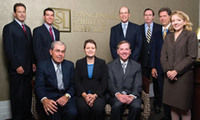 Spangenberg partners Dennis Lansdowne and Peter Weinberger were named as two of the top 50 lawyers in Ohio
Cleveland, OH (PRWEB) May 4, 2010
Spangenberg lawyers were again honored this year when six of their trial lawyers were named 'Super Lawyers' and one additional lawyer of the firm was named a 'Rising Star' by the publishers of Law & Politics.
This is the sixth straight year that our lawyers have been recognized for their accomplishments in representing victims of medical malpractice, defective drugs and products, catastrophic accidents, insurance bad faith, and fraud on consumers. Less than 5% of Ohio lawyers are similarly recognized. Spangenberg partners Dennis Lansdowne and Peter Weinberger were named as two of the top 50 lawyers in Ohio.
From its new offices in the north point tower overlooking the Cleveland Harbor, Spangenberg Shibley & Liber LLP commands outstanding views of Lake Erie while casting an eagle eye on its clients--consumers, businesses and individuals, on whose behalf it handles a broad range of wrongful death, personal injury and health care-related legal matters. Working on a contingency-fee basis and representing only plaintiffs, the firm handles a wide variety of cases including medical malpractice and nationwide consumer mass torts involving drugs, medical devices and toxic exposure. In addition, businesses call upon Spangenberg Shibley & Liber when their insurance company denies coverage.
Health Care Minded Ohio Law Firm
"We handle medical-legal cases across the spectrum of health care," says managing partner Peter Weinberger. These include cases that protect consumers injured as a result of medical errors or dangerous drugs, and those with health insurance policies where the insurer denies their claims or rescinds their insurance coverage when they get sick. The current health care debate has highlighted the bad faith conduct that many insurance companies engage in. It has also revealed the power of big drug companies who circumvent FDA regulations. Victims of this misconduct turn to Spangenberg Shibley & Liber lawyers for help.
Retained By Businesses To Pursue Insurance Company Coverage
"In addition to the hundreds of individual plaintiffs we represent, we also have a number of business and corporate clients," says Weinberger. When businesses have coverage disputes with their insurance carrier, they turn to Spangenberg Shibley & Liber. 'Over the past decade, Spangenberg Shibley & Liber lawyers have litigated numerous business coverage matters involving a wide range of insurance disputes,' says Weinberger. The firm proudly recognizes a growing number of its attorneys named to this year's Super Lawyers®, including Peter J. Brodhead, William Hawal, Dennis R. Lansdowne, John D. Liber, Stuart E. Scott and Peter H. Weinberger. Nicholas A. DiCello has been named to the Rising Stars list.
Cases Handled by Spangenberg Shibley & Liber LLP:
Spangenberg Shibley & Liber LLP is a Cleveland law firm that manages cases of wrongful death, personal injury, medical malpractice, negligence, and injuries to individuals and classes of consumers involving defective drugs, medical devices and other consumer products. The Ohio law firm also manages business disputes and prosecutes insurance claims on behalf of businesses and individuals. For more than 65 years, the Spangenberg law firm has devoted itself to representing injured persons and aggrieved businesses. Spangenberg Shibley & Liber LLP is headquartered in Cleveland, Ohio, at its New Location 1001 Lakeside Ave. East, Suite 1700. For more information or a free consultation, Visit SpangLaw.com.
Renee Latkovic - Public Relations Director
Spangenberg Shibley & Liber LLP
1001 Lakeside Ave. East, Suite 1700
Cleveland, Ohio 44114
Call Toll Free: (877) 696-3303
Local: (216) 696-3232
Fax: (216) 696-3924
###