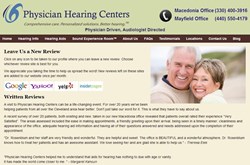 Physician Hearing Centers helped me to understand that aids for hearing has nothing to due with age or vanity. It has made the world come closer to me.
Cleveland, OH (PRWEB) April 21, 2013
In order to better support the hearing care requirements of the Mayfield Heights area of Cleveland OH, Physician Hearing Centers has added a hearing aid and hearing loss reviews and testimonials section to their website. The brand new section on the site is an area to share the hearing loss, hearing aid, tinnitus and hyperacusis stories of past and current patients of the practice. Dr. Bert Brown is pleased to offer this new enhancement observing that it's extremely helpful for prospective patients to see themselves in the stories of other people. A great many Americans suffer with hearing loss and it truly is vital for them to know that they aren't by themselves and that solutions do exist. The new hearing aid testimonials page will help local residents find a community of people that have gone through the same experience. The page is a complement to the company's YouTube channel which showcases video testimonials about hearing loss and hearing aids in Cleveland OH.
Visitors reading the stories on the website are reminded to not try to diagnose themselves as there are many different reasons for hearing loss. Individuals that suspect they have some form of hearing loss or who are experiencing pain or ringing in the ears should be evaluated by a qualified audiologist. A physical exam and hearing test are the first step in understanding the source of the hearing loss. The stories and solutions featured on the new testimonials pages may not apply in all situations.
Dr. Bert Brown, Otolaryngologist, has been a practicing ENT physician for over 25 years – devoting his career to helping people with hearing challenges. His expert understanding of the hearing process led to his development of the SER™ Fitting Room, which simulates the real world and allows the patient to experience their improved hearing with their hearing aids as a whole body experience – customizing them to their individual needs. His personal attention and total health approach are key to his success with patients. He's committed to making sure every solution he prescribes is tailored to their unique lifestyle and needs.
Dr. Brown completed his Bachelor of Arts degree at Northwestern University where he received the Phi Eta Sima and Phi Beta Kappa awards. He earned his Medical Degree from the University of Cincinnati where he was awarded the Christian R Holmes award in ENT. He completed his residency at the University of Pittsburgh Eye & Ear Hospital.
About Physician Hearing Centers
Physician Hearing Centers has served the Cleveland, Ohio area and its surrounding communities for several years. They offer a full range of diagnostic and preventative hearing healthcare professional services, including hearing aid screening, evaluations, hearing aids sales and rehabilitative and preventative counseling. Physician Hearing Centers professionals are dedicated to keeping abreast of the latest improvements in technological advancements in the hearing industry and are committed to offering the most current options to our patients.
Contact:
Dr. Bert Brown
http://physicianhearingcenters.com
Physician Hearing Centers
6770 Mayfield Road, Suite 210
Cleveland, Ohio 44124
(440) 550-4179
Physician Hearing Centers
640 East Aurora Road
Macedonia, Ohio 44056
(330) 400-3916