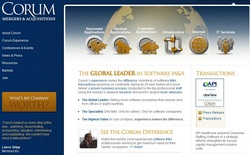 Software CEOs, founders, and executives are encouraged to attend this 90-minute Merge Briefing on how to successfully execute an M&A transaction in today's market with new rules and new players
Cleveland, OH (Vocus) May 21, 2010
NE Ohio tech industry association NEOSA and global M&A firm Corum Group are pleased to announce Corum's Merge Briefing Conference is coming to the Cleveland area on Wednesday, May 26, 2010. This intense 90-minute special workshop for software executives is presented by Corum and sponsored by NEOSA as rapid changes hit the market amid a recent flurry of deals.
"With a record rise in volume and valuations, 2010 may be the best year in the last decade for mergers and acquisitions in software, IT, internet and companies in related technologies," explained Mark Reed, Executive Vice President of Corum Group. "But a lot has changed in how it's done, and we are looking forward to helping busy execs understand the best ways to prepare for these potential new opportunities."
"NEOSA is proud to provide this unique service to our members and other area technology executives," said Brad Nellis, NEOSA's Executive Director. "It's a great venue near Case Western Reserve University, convenient to companies throughout the Midwest. We're looking forward to a very productive morning of learning and networking." NEOSA is the technology arm of the Greater Cleveland Partnership's 16,000 member partner COSE, the Council of Smaller Enterprises.
The Merge Briefing provides an update on current valuation trends and market drivers in the Software M&A space. The Merge Briefing covers what's hot and what's not; why buyers buy and things software companies can do to maximize shareholder value. The presentation will be given by Reed, who will bring his extensive experience in US-based and cross-border software M&A transactions. Corum operates worldwide, from headquarters in Seattle and Zurich plus offices in six other countries, and has experience closing transactions with Google, Microsoft, Intel, Symantec and many other market-leading companies.
"Software CEOs, founders, and executives are encouraged to attend this 90-minute Merge Briefing on how to successfully execute an M&A transaction in today's market with new rules and new players," added Nellis. "We all read about the hot tech mergers tech mergers market everyday, but for any software company considering an M&A transaction over the next 36 months, this professional-level update should be considered a must-attend event."
When:
Wednesday, May 26, 2010
Registration and networking: 8:30-9 a.m.
Merge Briefing: 9 – 10:30 a.m.
Where:
Corporate College East
4400 Richmond Road
Warrensville Heights, OH 44128
Registration:
Register here: https://www.corumgroup.com/Events.aspx
(complimentary for NEOSA members)
About Merge Briefing
Is it time to consider M&A? Find out what's driving current activity, which are the most active sectors, where are the hidden sources of buyers, and how to make your firm attractive to the strategic acquirers in today's global environment at Corum's Merge Briefing, conducted for software executives every month in cities around the world. In addition, hear from the experts about simple steps to increase your firm's value, the art of negotiating the optimal deal structure, and how to keep your transaction from failing due diligence.
About NEOSA
Established in 1998 as the Northeast Ohio Software Association, NEOSA is a membership-based organization that promotes the advancement of the Technology Community and IT Industry of Northeast Ohio. NEOSA, the COSE Technology Network, is an industry-led, member-driven organization working to support the technology industry of northeast Ohio. NEOSA has more than 900 members representing all facets of information technology: software development, IT services, website design and development, custom application development, IT recruiters and others.
NEOSA produces more than twenty events annually to support members and the tech community, and also sponsors events, such as Corum's Merge Briefing, to further its strategic initiatives for Business Development and Education and Training for the benefit of its members.
About Corum Group
Corum Group Ltd. is the world's leading seller of privately held technology companies with over 220 successful transactions in its 25 year history, generating over $6 billion in wealth for the owners. Corum Group serves its global client base from offices in eight countries. Corum's M&A advisors are highly experienced former tech CEOs, who are supported by the industry's leading researchers, writers and valuation experts.
###