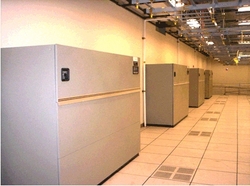 When you can introduce two world class companies such as BlueBridge and Med-1 to each other, you've got a winning combination that's good not just for the partners, but for Northeast Ohio as well. It's a win-win situation for everyone. We anticipate more such business opportunities coming about as a result of the success of this mission
Cleveland, OH (PRWEB) June 9, 2008
BlueBridge Networks of Cleveland, Ohio and Med-1 of Tel-Aviv, Israel, will team up to provide reciprocal Data Center Services for firms who conduct business in both Ohio and Israel.
BlueBridge Networks is the leading provider of Data Center Services in Cleveland, Ohio where it owns and operates state-of-the-art collocation data centers and provides service to a number of the region's most prestigious institutions. Med-1 is the leading supplier of IT infrastructure outsourcing and data center hosting solutions in the Israeli market. Med-1 pioneered one of the first private submarine cables in the world, and later built a robust fiber optics submarine network (MedNautilus) connecting Israel to various European countries.
"We are very happy to cooperate with BlueBridge. BlueBridge Networks, in its state-of-the-art data centers, is able to provide value added services to our customers and other Israeli companies based in the area. This cooperation between BlueBridge Networks and Med-1 provides the best-of-breed data center solutions for our customers, based on the facilities, knowledge, and experience that the companies have," said Eran Barak, CEO of Med-1.
Neil Adelman, Chief executive Officer of BlueBridge Networks commented, "Our collaboration with one of Israel's leading technology pioneers sets the stage to strengthen economic development opportunities for Northeast Ohio, for BlueBridge Networks, and Med-1. We are very please to have them as a partner in this endeavor."
Howard Gudell, a partner with SGI Global Advisors, the consulting firm that brought 15 of Israel's top IT companies to Cleveland last March to meet with local banks, insurers and IT integrators including BlueBridge, said, "this is a perfect example of how Northeast Ohio can accelerate economic development through international partnering and cooperation. Israel is one of the most advanced countries in the world offering innovative technologies that can make locally companies more globally competitive. We're excited over this emerging partnership between BlueBridge and Med-1 and look forward to more business development coming out of the recent mission."
David Silk, Partner with SGI also stated, "When you can introduce two world class companies such as BlueBridge and Med-1 to each other, you've got a winning combination that's good not just for the partners, but for Northeast Ohio as well. It's a win-win situation for everyone. We anticipate more such business opportunities coming about as a result of the success of this mission," Silk said.
About BlueBridge Networks, LLC
BlueBridge Networks, LLC, headquartered in Cleveland, Ohio is a leading provider of SAS 70 and PCI compliant Data Center Services, Managed Security, Managed Firewall, Managed Storage, and Dedicated Internet Access. For more information visit its website at http://www.bluebridgenetworks.com, or contact Media Relations at (216) 621-2583, ext. 2221.
About Med-1
Med-1, headquartered in Tel-Aviv, Israel, is a leading supplier of IT infrastructure outsourcing and collocation / IT Room hosting solutions in the Israeli market. Med-1 provides IT infrastructure outsourcing for some of the largest companies in Israel from a diverse range markets - communications, financial, security & defense, industrial etc. Med-1 specializes in establishing and operating large and advanced Colocation / Data Centers. The servers and switches of many of the largest companies in Israel are hosted in these facilities. MED-1 has been awarded the exacting ISO-9001:2000 standard label and the title of Ministry of Defense licensed supplier. For more information visit its website at http://www.med-1.com or telephone +972-09-747-6000.
About SGI Global Business Advisors
SGI is an economic development consulting firm with an international clientele that develops and implements unique economic development legacy projects for public and private clients focusing on overseas business cooperation and attraction. For more information visit its website at http://www.sgiglobal.com
###