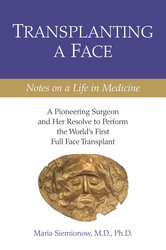 Transplanting a Face: Notes on a Life in Medicine
Cleveland, Ohio (PRWEB) February 12, 2008
How do you determine the value of a face? Imagine, for a moment, being unable to touch the face of someone you love. "Now you're beginning to grasp something of the burden a disfigured person carries," writes Dr. Maria Siemionow, section head of plastic surgery research at Cleveland Clinic, in "Transplanting a Face: Notes on a Life in Medicine" from Cleveland Clinic Press.
This consumer health book follows Dr. Siemionow's journey after she received approval in 2004 to perform the world's first full face transplant. The story of her groundbreaking and controversial pursuit is one of courage and hope, and not just for those with facial deformities.
Soon people whose faces have been disfigured because of birth defects, accidents or disease could have the opportunity to lead a new life. In Dr. Siemionow's face transplant book you can:

Learn what a triumph of form and function the human face represents
Follow the planning for a procedure that has never before been attempted
Meet the people who are eager to be considered for a full face transplant
Understand the emotional impact of preparing to receive another's face
"Transplanting a Face" reveals how much more than muscle and tissue there is to the human face. People who read this book may never look at their face -- or anyone else's -- the same way again.
Read more about and purchase
"Transplanting a Face: Notes on a Life in Medicine" by Dr. Maria Siemionow.
ISBN: 1596240393
Pages: 192
$14.95/ trade paperback
About Cleveland Clinic Press
Cleveland Clinic Press is a medical book publisher whose mission is to improve health literacy and dispel myths associated with health and health care. The Press offers authoritative consumer medical guides and health books, including heart books, cancer books, healthy cookbooks, kids' books on health, and more.
About Cleveland Clinic
Founded in Cleveland, Ohio, in 1921, Cleveland Clinic is a nonprofit multispecialty academic medical center that integrates clinical and hospital care with research and education. "U.S. News & World Report" consistently ranks Cleveland Clinic one of the nation's best hospitals in its annual "America's Best Hospitals" survey.
Cleveland Clinic Press contact for book review copies and author interviews:
Kathryn DeLong, +1-216-445-5547
###