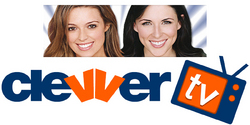 The show has really found its niche, separating itself from all the other web and TV content available online today
Beverly Hills, CA (PRWEB) October 8, 2009
Online video content producer, Clevver Media, recently produced the 500th episode of its popular web video series, ClevverTV. This milestone marks another company achievement: attracting more than 74 million viewers since the show was launched just over one year ago.
"The show has really found its niche, separating itself from all the other web and TV content available online today," says Michael Palmer, Executive Producer of ClevverTV. ClevverTV attracts an audience that consists mostly of tweens and young adults, specifically females between the ages 13 and 24. Viewers flock to watch ClevverTV because the shows cover all their favorite topics, from the Jonas Brothers, Twilight, Miley Cyrus and Selena Gomez, to fashion tips, new music reviews, celebrity gossip and more, all from a young adult's perspective.
ClevverTV hosts, Dana Ward and Joslyn Davis, are credited for a lot of the show appeal. "Viewers like our hosts because they don't put on an act. What you see on-camera is exactly what they are like off-camera, and we think people like that," says Jorge Maldonado, Producer of ClevverTV. The hosts shoot several varieties of shows, including individual "news" style segments as well as "discussion" type shows where both hosts are on-camera together.
"Our viewers continue to come back to ClevverTV because unlike a lot of online entertainment shows and blogs, we don't trash celebrities for entertainment value," explains ClevverTV host, Dana Ward. Host Joslyn Davis agrees and adds, "There is an audience for that sort of negative entertainment, but we just don't go that route, instead we try to stay positive and have fun - simple as that." Audiences seem to agree: ClevverTV is in the Top 100 Most Viewed and Top 100 Most Subscribed Directors of all time on the popular video portal, YouTube. Plus, the company just added their 60,000th subscriber, which in the world of YouTube, a subscription is like a stamp of approval from a viewer.
ClevverTV is not like your typical "webcam" production, filmed in a bedroom or home and uploaded to YouTube. Instead, ClevverTV studios resemble that of a professional television newscast, with two full green screen studios, multiple cameras, full professional lighting and audio set-ups as well as teleprompters attached to remote-controlled cameras. ClevverTV is at the head of the industry game, considering online video to be the future of broadcast. "Online viewers have a million choices when it comes to which video to watch, so we have to make our content not only entertaining, fun and relevant, but it also must look and sound great too," Palmer explains. "It's getting to the point where you can watch almost any TV show online, including those from major networks and cable providers. Because we are competing with those outlets, our content is produced at the highest level possible." Palmer adds.
Clevver Media is looking toward the future with plans to expand its current offering beyond ClevverTV. They have several new shows debuting over the next few months, and are increasing the number and variety of ClevverTV shows produced each week. In September the company launched ClevverTV.com, an in-depth companion website for ClevverTV, which showcases the online video segments while covering up-to-the-minute news that matters to its young adult demographic.
About Clevver Media and ClevverTV
Clevver Media is an innovative video content company and an official YouTube Partner. Clevver aggregates, creates, and produces online content for its properties including Clevver.com, ClevverTV.com and the Clevver YouTube channels. ClevverTV was launched in May 2008.
About The Hosts
Joslyn Davis grew up just outside the glitz and glam of Hollywood and went on to earn a BA in English and minor in Spanish from UC Irvine. She enjoys traveling, music and anything involving popcorn!
Dana Ward officially entered the Hollywood scene when moving to Los Angeles from Chicago to earn her journalism degree at USC's Annenberg School. She enjoys films, fashion and Sudoku!
For more information or if you are a publicist and want to book your client on our show please contact:
Michael Palmer
Clevver Media / ClevverTV
Executive Producer
8350 Wilshire Blvd. Suite 200
Beverly Hills, CA 90211
(323) 556-0723 Office
(213) 948-0197 Mobile
###