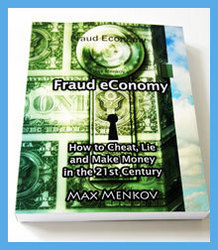 San Francisco, CA (PRWEB) September 7, 2009
Max Menkov is proud to introduce that his book Fraud eConomy - How to Cheat, Lie and Make Money in the 21st century has been accepted for sale as a ClickBank product. More information on this truly remarkable book can be found at http://www.fraudeconomy.com/
Max Menkov is a very successful Internet marketer who made his money on the World Wide Web! His Truly Amazing Story about his life and how he became a Super Affiliate for ClickBank.com is now for sale on the Internet. ClickBank, one of the most successful companies in the ecommerce world, gathers together Internet "window shoppers" and converts them into buyers, generating millions in residual income for website owners.
In over 213 pages of text and nearly as many pages of charts and graphs, Eastern European immigrant Menkov explains the income flows and profits of various Internet products, some of them of doubtful validity, which he has tracked over the last several years. The book details Menkov's successful journey from being a struggling software programmer to making up to $470,000 in annual income by popularizing various digitally-based books, software programs, exercise regimes, entertainment materials and other things.
The book is aimed at those web surfers seeking to earn their fortune from the Internet and works hard to give them cautionary tales of how the world behind their computer screen is filled with deception, scam and click fraud. But, exactly because of these cautionary tales, the book contains good news: that there are ways to become better off - even wealthy -- through online marketing and sales. It is both an instruction manual and expose.
More than a decade ago, Max was a newly arrived immigrant to the USA with $300 in his pocket and big dreams. Now he's became one of the most powerful ClickBank Super Affiliates in America.
This enterprising young man, a single software engineer, sold 11,000,000 visitors to his websites for hard, cold cash. The book is not always a happy tale. It reveals, for example, his desperation during the dot com collapse - and how he recovered. The graphs of his income flow prove it.
Here are a few of the titles of some of the nearly 40 chapter and case studies:
Chapter 1: Food, Fat and Phenomenal Profits
Case Study: FatLoss4Idiots.com
Chapter 7: Where on Earth Can You Make $10,000 in One Day?
How simple 3 line ads change our lives
Chapter 8: The Rich Jerk Yank$ Your Chain
Case Study: TheRichJerk.com
Chapter 13: Lazy Money
The truth about being number one
Chapter 16: Watering The Gas
Case Study: Water4Gas.com
Chapter 18: The Zapping Of Zango: How It Came To Its Downfall
What goes up must eventually come down
Chapter 20: Hey Kids, Try This At Home: 3000 Channels To Surf
Case Study: SatelliteTVtoPC.com
For an exclusive interview with Max Menkov call telephone number. 408-533-8049
###