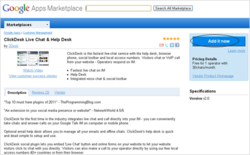 Setup ClickDesk live chat on your website with just a click using Google Apps!
Sunnyvale, CA (PRWEB) September 28, 2012
ClickDesk, a leading provider of multi-channel communication technologies that enables real-time engagement between website visitors and businesses, announced today that it is integrating with Google apps.
The integration means that over 4 million Google app users can add ClickDesk live chat software to their websites with one single click.
"Google has set the benchmark in efficiency by offering a variety of services with a single-sign-on process. We've taken the next step, making it easy for Google apps users to engage with their users in real-time using ClickDesk," says Manohar Chapalamadugu, CEO of ClickDesk.
To include ClickDesk live chat via Google Apps is easy. Users may access Google Apps through the company's admin Gmail account and click add it now on ClickDesk's Google app marketplace page. The setup will complete automatically and provide users with the necessary code to be pasted on their sites. Administrators will have instant ability to choose operators.
The ClickDesk-Google app integration comes close on the heels of ClickDesk's revamped dashboard, a launch aimed to reduce time required to navigate between options and changing preferences.
"In today's business environment, time is of the essence. The time you save, directly corresponds to increased productivity. We are continuously trying to add more value to our customers by making every process more agile," says Manohar Chapalamadugu.
ClickDesk offers a combo of live chat, voice chat, helpdesk and social toolbar for websites. The service is currently used by over 30,000 businesses across 40 countries.
To learn more about the integration, please visit http://www.clickdesk.com