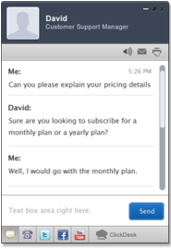 The product is easy to use, quick to set up and has not only made customer support better, but increased sales - Mark, Spothero
Sunnyvale, CA (PRWEB) December 20, 2012
ClickDesk, one of the fastest growing providers in the live chat and help desk software industry, today announced that it reached a milestone of powering 50,000 happy businesses across the globe helping them engage with their website visitors in real time to increase sales and provide world class support.
Launched in June, 2011, the service has grown rapidly, almost doubling its user base over the last six months to achieve the landmark figure on 12-12-12.
"We're extremely delighted to secure the trust of 50,000 businesses across the world and be able to help them engage with their website visitors through their preferred channels" says Manohar Chapalamadugu, CEO of ClickDesk
ClickDesk's live chat customers are now spread across 67 countries and do over 45 million chat impressions a month.
"Clickdesk is a through and through glorious product. At SpotHero, we take customer service very seriously. Clickdesk is an integral part of how we provide glorious customer service to our users. The product is easy to use, quick to set up and has not only made customer support better, but increased sales. Their customer service is also excellent!" says Mark Lawrence, Co-Founder & CEO of recently funded SpotHero.com who've been using ClickDesk for over a year now.
Unlike other live chat providers, ClickDesk is a cloud-based solution that offers users an extremely simple sign-up process. Businesses can instantly start chatting with their web visitors through their existing Skype or Google Talk accounts. Other value added features such as built-in browser VoIP phone, Email Help desk and Social Toolbar are also included in all plans. The company added Helpdesk capabilities when it hit 25,000 customers in June, 2012. ClickDesk also offers more than 25 plugins and integrations with all major CRM, billing and e-commerce platforms. Some of the major services include Zendesk, Salesforce and Zoho among others.
"This has been an incredible journey so far! Over the last 18 months we have focused our energies on providing our users with world-class service and consistently delivering on our 99.95% uptime guarantee" adds Manohar Chapalamadugu, CEO of ClickDesk
ClickDesk offers a free plan with all major features, while paid plans start at $9.99. To learn more about the product or to signup, please visit http://www.clickdesk.com.
About ClickDesk
ClickDesk provides a bundle of Live chat, voice chat, Help desk and Social Media Toolbar for websites, facilitating real-time engagement between businesses and website visitors via multiple channels.
The service is 100% cloud based, which eliminates the need for business owners to install any additional hardware or software. ClickDesk is headquartered in Sunnyvale, with offices in Hyderabad, India.