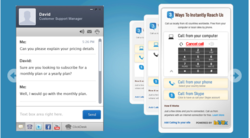 We're very happy to have ClickDesk's live chat integration available for our customers and their landing pages - Unbounce
Suunyvale, CA (PRWEB) October 11, 2012
ClickDesk, a leading provider of multi-channel online communication technology that enables real-time engagement between website visitors and businesses, announced today that it is integrating with Unbounce, a landing page creation service.
The incorporation of ClickDesk will help boost landing page engagement rates by allowing Unbounce users receive live chats and calls on their Google Talk or Skype, directly from their landing page.
Users of Unbounce can instantly add ClickDesk service to a landing page without any need for additional software or hardware installation.
"Live chat is a key part of obtaining valuable user feedback, and helps landing pages become more engaging, adds credibility and can help increase conversion. We're very happy to have ClickDesk's live chat integration available for our customers and their landing pages, " says Georgiana Laudi, Director of Marketing, Unbounce.
"Live chats and calls on Landing Pages is a perfect addition. Landing pages help businesses validate their idea, run a survey, create a mailing list or even drive sales. By including ClickDesk functionality to the Unbounce platform, we have bridged this communication gap and made it possible to live chat or call directly from the landing pages," says Manohar Chapalamadugu, CEO of ClickDesk.
The ClickDesk - Unbounce integration comes at a time when more and more website owners are looking for a better way to monetize their web traffic by establishing instant communication with visitors. ClickDesk already partners with several leading edge technology companies, and offers a combo of live chat, voice chat, helpdesk and social toolbar for websites. The service is currently used by over 35,000 businesses in more than 45 countries.
To learn more about the integration, please visit http://www.clickdesk.com
About ClickDesk
ClickDesk is the first social live chat service to integrate social communications, voice support and Help desk into a live chat service. The service is 100% cloud based, which eliminates the need for business owners to install any additional hardware or software. ClickDesk is headquartered in Sunnyvale, with offices in Hyderabad.