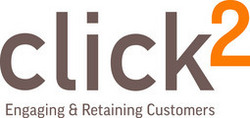 We are thrilled to have added significantly to our client base and to have organically grown existing client relationships.
Boston, MA (PRWEB) February 22, 2011
ClickSquared Inc., a premier provider of email and cross-channel database marketing solutions, today announced financial results for its fourth quarter and year ended December 31, 2010.
"We are thrilled to have added significantly to our client base and to have organically grown existing client relationships," said ClickSquared CEO, Wayne Townsend. "In concert with executive hires that bring a wealth of industry experience to the company, we've been able to substantially raise ClickSquared's competitive profile and help our clients take their marketing programs to the next level. In fact, we were recently named one of OnMedia's Top 100 Private Companies."
Customer Growth
Privately-held ClickSquared announced a 134% increase in annual EBITDA (earnings before interest, taxes, depreciation and amortization) over the prior year; EBITDA is a commonly used proxy for measuring cash flow from operations. Factors contributing to this dramatic increase include new business relationships and increased spending by current clients. New Q4 relationships include Saab, East Coast Trains, Redspottedhanky.com, Oklahoma Thunder, Plymouth Rock Assurance, Public Relations Society of America, Guaranty Bank, and Service Electric. Growth was particularly notable among key clients such as Montage, Capital One Bank, Bank of America, Verizon and The Edrington Group.
Strong Executive Team
Three new executive hires strengthened ClickSquared's management team.
In December, seasoned finance executive Stephen Henkenmeier joined as chief financial officer. Henkenmeier has partnered with senior management to further accelerate the company's market expansion, enhance profitability and improve internal processes while also playing a key role in corporate development and strategic planning.
In October, Greg Garnys was appointed as managing director of ClickSquared's European headquarters in the UK. In this position, Garnys is leveraging his extensive experience working with a variety of international corporations to attract, cement and grow client relationships for ClickSquared Europe. He plays a key leadership role in defining, developing and customizing solutions for ClickSquared's European clients.
To further strengthen ClickSquared's reputation as an innovator in cloud marketing software, the company also announced the appointment in November of Mike McGonagle as chief technology officer. McGonagle is responsible for ClickSquared's overall technology direction, as well as leading the product development, product management and information technology functions.
Industry Recognition
In addition to being named one of OnMedia's Top 100 Private Companies, ClickSquared was also recognized as a "strong performer" in the Forrester Research, Inc. report, "The Forrester Wave: Email Marketing Service Providers, Q4 2009." The new report gives ClickSquared top marks in several areas including analytic services, transactional messaging, throughput speed, systems integration and content library capabilities.
According to the report, "ClickSquared provides a host of digital services by leveraging its own proprietary Web hosted platform that supports self, managed, and blended service models. It has good provisions for enabling multichannel communications including email, direct mail, and SMS."
The report also said "ClickSquared offers a complete set of production and strategic services." Forrester continued, "ClickSquared's strategy development is focused on architecting relationship marketing strategies and tactics that capitalize on clients' brand advantages. The strategies encompass personalized value propositions that are extended to clients' customers through direct communications and service. These services include industry-specific expertise, and ClickSquared offers a comprehensive array of strategic services."
Sales and Revenue Growth
Q4 platform sales bookings increased by 60% year-over-year. "ClickSquared recognizes revenue on a monthly basis over the term of the subscription, and recognition only begins once the client is in production," said Townsend. "We expect sales from both Q4 and the current quarter, and an increasingly strong sales pipeline, to continue to fuel ongoing revenue and EBITDA growth. We continue to add new client relationships and are particularly pleased to welcome the Oklahoma Thunder to our roster of professional sports teams, Guaranty Bank to our financial services practice, and redspottedhanky.com and East Coast Trains to our fast-growing European presence".
The Future
Townsend concluded: "We will be building upon our considerable 2010 momentum in the coming quarters. The visibility we've created in the marketplace, coupled with new products and services we'll be rolling out over the coming quarters, positions ClickSquared for strong success in 2011."
About ClickSquared:
ClickSquared is a premier provider of email and cross-channel database marketing solutions. With innovative offerings ranging from self-service email to highly automated, real-time customer engagement and loyalty programs, ClickSquared's innovative cloud marketing platform orchestrates and delivers analytics-driven, relevant and personalized customer communications across email, direct mail, social, survey, mobile and web channels. Leveraging a team of marketing, technology and vertical-industry experts that are passionate about our clients' success, ClickSquared enables organizations of all sizes to maximize the return on their marketing investment.
ClickSquared has helped to build some of the world's best known brands including ARAMARK Parks and Destinations, The Boston Celtics, Capital One Bank, Dr. Pepper Snapple Group, Four Seasons Hotels and Resorts, Greyhound, HomeAway, Hyatt, Lenovo, Leading Hotels of the World and Sovereign Bank Santander. For more information on ClickSquared, visit the company's web site at http://www.clicksquared.com.
###