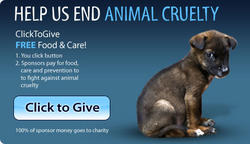 Does this sound too good to be true? It's not!
Los Angeles, CA (PRWEB) November 7, 2010
This year, the Bloomberg administration in New York City noted that the number of people living on New York's streets and subways soared 34% in a one-year period. In fact, there were more homeless people found on the streets in every borough. It has also been reported that Mayor Bloomberg's administration buying homeless people a one-way plane ticket out of the city to meet with their families.
ClickToGive has devised a clever way to help solve the problem and to contribute funds to shelters and assistance programs – Feel like making a difference in the world from the confines of your living room?
Want to donate to charity without having to open your wallet?
ClickToGive, a company based on the ingenious idea of selling ads to support the homeless – and all it takes is one 'click' of your mouse. The money is raised through ads that are placed on the website. There are specific sponsors for each charity, and the 'clicks' keep track of how much is given.
ClickToGive.com is a simple concept.
Six categories line the website, each connected to a carefully chosen national charity. You have your choice of helping animals (ASPCA), feeding children (Feed the Poor), preventing child abuse (Child Help), ending homelessness (National Alliance to End Homelessness), fighting breast cancer (National Breast Cancer Foundation) and sponsoring a child (directly through ClickToGive.com).
Does this sound too good to be true?
It's not! You can click on each charitable cause once per day, and can even create an account in order to see how much of an impact you've made.
After all, it takes more than one person to save the children, end homelessness and prevent child abuse.
# # #