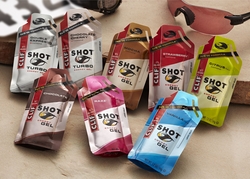 I'm a big believer in getting the energy I need from good, clean, simple foods – it's a must
Emeryville, CA (Vocus) November 4, 2010
CLIF SHOT® has dialed up the competitive advantage of its line of all-natural and organic energy gels with a revamped formula that elevates effectiveness, taste and consistency in sleek, easy-to-use packaging. Eight great-tasting flavors, including new Citrus and Chocolate Cherry, give your body only what it needs for quick energy while training and racing.
With a focus on performance, new CLIF SHOT Energy Gel contains up to 50 percent more electrolytes than its previous recipe. For fast-acting energy, the new gel combines two carbohydrate sources that work together efficiently – organic maltodextrin and organic evaporated cane juice – to deliver energy to the bloodstream in five minutes or less. A thinner consistency helps the gel go down more easily.
"I'm a big believer in getting the energy I need from good, clean, simple foods – it's a must," said 2010 Ironman World Champion Chris McCormack. "I use gels because my body craves carbs and electrolytes and nothing else. CLIF SHOT's new energy gel not only tastes great but now has a thinner consistency to help it go down easy no matter what mile you're on."
Blending organic fruit, cocoa and other natural ingredients, the new CLIF SHOT Energy Gel formula ensures that all eight flavors taste like delicious, real food. CLIF SHOT Energy Gel has up to 70 percent fewer ingredients than other gels, which can be loaded down with preservatives and non-essential additives. What's more, the ingredients in CLIF SHOT gel are 85-90 percent organic and 100 percent natural.
"When athletes are at a critical stage in training or racing, there's a big difference between nutrients they absolutely need to keep their bodies working optimally, and additives that just get in the way," said Chris Randall, CLIF SHOT brand manager. "Athletes tell us they want simple foods that really work, taste great and go down easily. That's what CLIF SHOT Energy Gel is all about."
New, streamlined packaging features rounded corners for carrying convenience and a smaller opening for easier eating. The packets also feature the patented Litter Leash® to keep the torn-off tops from littering trails and roads.
As before, CLIF SHOT Energy Gel provides more caffeine options for customized intake than any other brand, ranging from no caffeine to flavors with 25mg, 50mg and 100mg – the highest caffeine level of any energy gel. The caffeine is derived from all-natural green tea extract, which has been found to improve endurance capacity, according to a study in the American Journal of Physiology.
Available now in sports retail, grocery and natural food stores (SRP: $1.29), new CLIF SHOT Energy Gel comes in six base flavors and two Turbo options that contain 100mg of caffeine – the equivalent of about two shots of espresso or one 12 oz. cup of drip coffee:

Base Flavors: Vanilla, Chocolate, Strawberry (25 mg of caffeine), Mocha (50 mg of caffeine), Razz® and new Citrus (25mg of caffeine)
Turbo Flavors: Double Expresso and new Chocolate Cherry (each with 100 mg of caffeine)
About Clif Bar & Company
Clif Bar & Company is a leading maker of nutritious, all-natural, organic foods and drinks, including CLIF® BAR energy bar, LUNA®, The Whole Nutrition Bar for Women®; and CLIF Kid®, Nourishing Kids in Motion®. Focused on sports nutrition and healthy snacks, the employee and family-owned company is committed to sustaining its people, brands, business, community and planet. For more information on Clif Bar & Company, please visit http://www.clifbar.com, check out our Facebook page at http://www.facebook.com/clifbar or follow us on Twitter at: http://www.twitter.com/clifbar.
Recently Clif Bar & Company was ranked the No. 1 brand in the Forbes Breakaway Brands survey, conducted by Landor Associates using Young & Rubicam's BrandAsset Valuator database measuring brand momentum from 2006 to 2009. Forbes.com
Editor's Note: Product samples and photos are available on request.
# # #