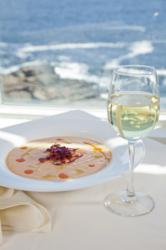 The Cliff House developed this Carrot and Ginger Soup recipe for spa guests – a wonderful way to warm up and slim down this winter.
Ogunquit, Maine (PRWEB) January 09, 2013
Health-conscious foodies rejoice – The Cliff House Resort & Spa, an Ogunquit, Maine hotel, gives carrot soup a fresh spin while keeping it healthy and delicious.
The New Year is an ideal time to sample this spa-inspired recipe. The Cliff House, one of the premier spas in Maine, developed this recipe for spa guests and uses ingredients like pineapple and lime to turn up the heat while keeping calories down. Root vegetables give it a hearty, satisfying character.
Besides being nutritious and tasting great, the dish is also easy to make. Simply toss the ingredients into a saucepan, purée and serve with crusty whole wheat bread and light salad – a wonderful way to warm up and slim down this winter.
Spa-Inspired Carrot and Ginger Soup Recipe
2 pounds carrots, chopped
1 t. fresh ginger, minced
1 potato, peeled and chopped
1 clove garlic, chopped
1 small Vidalia onion, chopped
1 t. fresh lime juice
1 cup fresh pineapple, chopped
3 cups vegetable stock
Place all ingredients in a heavy-bottom saucepan and bring to boil. Lower heat and simmer until carrots and potatoes are soft. Purée and serve.
When New Year's resolve weakens, The Cliff House is ready with rich chowders that use classic Maine ingredients – like clams and cream. Visit cliffhousemaine.com for details on their Bald Head Cliff Corn Chowder and Cliff House Clam Chowder.
###
The Cliff House Resort & Spa, located on 70 oceanfront acres in southern Maine, offers premier guest services, fine dining, a Condé Nast-rated spa and conference facilities. Owned and operated by the Weare Family since 1872, the resort has been welcoming guests for more than 140 years. More information can be found at cliffhousemaine.com, on Facebook or by calling (207) 361-1000. Media inquiries should be directed to Jessica Gilman at Vreeland Marketing & Design: jgilman (at) vreeland (dot) com or (207) 846-3714.