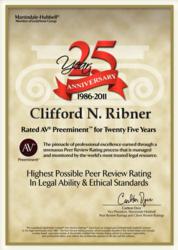 Tulsa, OK (PRWEB) October 05, 2012
Clifford Ribner, Attorney has been registered as an A+ accredited business by the Tulsa chapter of the Better Business Bureau since February 2006. Clifford Ribner was once again awarded the Martindale-Hubbell AV Preeminent Rating, a prestigious honor in the legal field. The award is especially significant since Clifford Ribner has received this award for each of the past 26 years. This award, combined with the registration as an A+ accredited business with the Better Business Bureau shows Ribner's dedication to providing excellent legal services as an Oklahoma Tax Attorney.
"I'm very honored to receive the AV Preeminent Rating every year for over the last 26 years from Martindale-Hubbell," said Clifford Ribner. "This is a testament to the commitment that I make to provide the best in legal ability and ethics to each and every one of my clients."
To contact Clifford Ribner, please call 918-582-9200 or visit: http://www.cnribneratty.com
About Clifford Ribner
Clifford Ribner is a Tulsa-based tax attorney who limits his practice to representing taxpayers with serious tax issues, including large tax debts, employment tax problems, tax audits, criminal tax investigations and other tax controversies and court cases.
Clifford Ribner has over 28 years of experience in complex tax law and litigation. Clifford Ribner is an Oklahoma Tax Attorney based in Tulsa, Oklahoma. Ribner has a J.D. and an advanced law degree in taxation (LL.M.) from NYU Law School, which is recognized as the nation's premiere training ground for tax attorneys. Clifford Ribner's practice has been an A+ rated Better Business Bureau accredited business since 2006.
About BBB Accreditation
The Better Business Bureau has determined that Clifford N. Ribner, Attorney meets BBB accreditation standards, which include a commitment to make a good faith effort to resolve any consumer complaints. BBB Accredited Businesses pay a fee for accreditation review/monitoring and for support of BBB services to the public.
BBB accreditation does not mean that the business' products or services have been evaluated or endorsed by BBB, or that BBB has made a determination as to the business' product quality or competency in performing services.
The BBB rating is based on 16 factors. The factors that raised Clifford N. Ribner, Attorney's rating include the length of time business has been operating, No complaints filed with BBB, and the BBB has sufficient background information on this business.